Vegan Edibles: Raw Citrus Canna Cake (Paleo Friendly).
This raw, paleo, refined sugar free, gluten free, cannabis infused citrus cake is one of the best cakes you'll ever eat. It's simple and fairly quick to put together, but it tastes so fancy and expensive that you'll feel like putting on elbow length gloves, stuffing a joint into a cigarette holder, and stepping into a Breakfast at Tiffany's montage.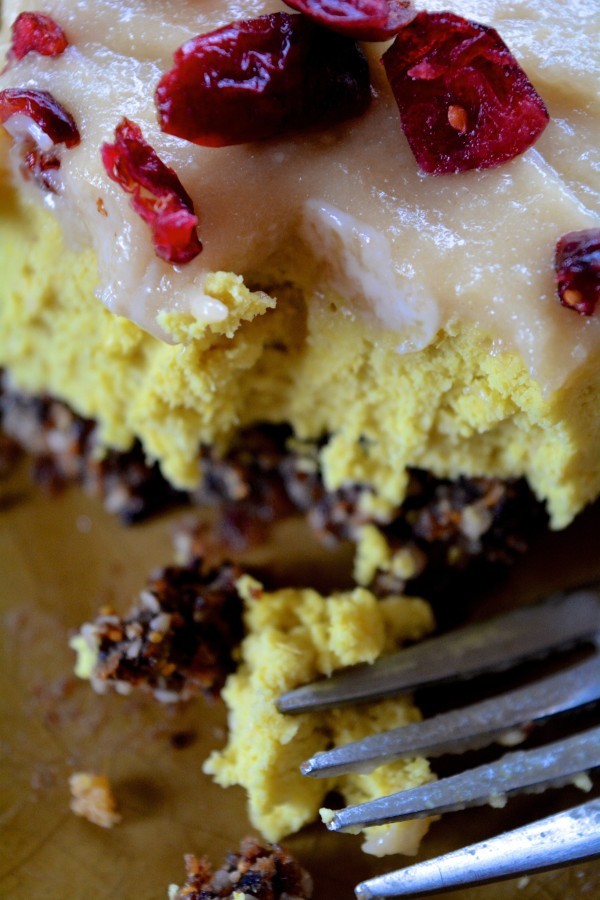 Vegan Edibles: Raw Citrus Canna Cake (Paleo Friendly)
This three parter requires a food processor and some fridge/freezer space, but it's really easy to put together. Feel free to make it canna-free for a healthy desert option the whole family can enjoy!
Crust
1. In a food processor, process until malleable:
1 1/2 Cup Figs
3/4 Cup Sunflower Seeds (or cashews)
1/4 t Salt
2. Press into a 7″ or 9" cake pan (springform if possible) and refrigerate for 30 minutes.
Filling
1. In a food processor or high speed blender, combine the following until smooth (blender is best for this step):
3/4 Cup Coconut Flour
1.5 Cups Soaked Cashews
2 Bananas
2 Oranges, Zest and Fruit
3/4 Cup Coconut Oil (melted)
1/4 Cup Green Oil
1/3 tsp Turmeric
1/2 tsp Vanilla
2. Pour over crust and refrigerate overnight or freeze for 4 hrs.
Vanilla Frosting
1. In a high speed blender, combine until smooth:
3/4 Cup Cashews (soaked for 3-5 hrs)
6 Tbls Coconut Butter
3 tsp + Lemon Juice
1/3 tsp Vanilla
1/3 tsp Powdered Ginger
1 1/2 tsp Honey or Agave
2. Spread onto cake and top with:
Dried Cranberries (Chopped)
This recipe contains 12- 1 tsp servings of canna oil… use less if your oil is stronger. Always test your dosage before using in recipes.
Visit our Complete List of Cannabis Infused Recipes.