Grow Room Security is important when setting up an MMJ Grow Room.Growing Medical Marijuana can be fun and rewarding, at the same time it can be very dangerous and risky. Securing your grow room is a very important issue when setting up or building an mmj grow room. No matter how big or small your room is, you will always have to worry about securing it from pests, thieves, and anything else that may cause problems for you. You also need to make sure if you are growing on an "underground" (illegal) base to stay clear of any issues resulting in the authorities showing up at your location. The Weed Scene does not condone of any illegal grow operations! яндекс
Grow Room Security Basics
Whether you are growing inside your own home or in a warehouse there are a few key things to always remember. Always keep your location in good repair. Keep your property clean and up to date. Keep the electrical use to a minimal. Make sure the air around the building is clean and free of smell. Keep as many people out of your home as possible! If you are growing weed illegally, Do NOT use a monitored alarm system, as you do not want the cops showing up at anytime. I prefer to use my concealed weapons license and a .357 magnum, but if you are not into guns, A dog will work great for grow house security. Outside your grow room you can use cedar shavings to help kill odors. Inside you can use a carbon filter and an ozone generator to neutralize the marijuana fragrance. Always unload your grow supplies from within a closed garage or at night. If noise is an issue you can use sheetrock or sound board to insulate the room. Install rubber feet or grommets on fans and ballasts to keep vibration to a minimum. In-line fans are much quieter than squirrel-cage blowers. Make sure to exhaust all air properly.
Marijuana Grow Room Security Laws
Besides the obvious reasons to use security to protect your medical marijuana grow house, most states are now requiring and setting new laws pertaining to security, as they are trying to do everything they can to regulate and keep the legit dispensaries in business as long as possible.
Using Video Surveillance as Grow Room Security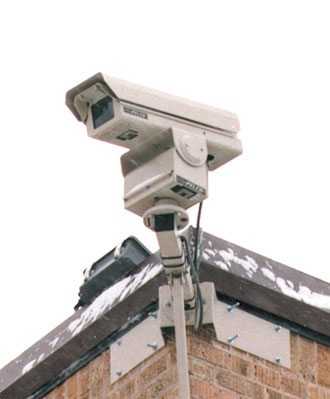 When set up and used properly, Video Surveillance can help protect you and your MMJ Grow Room from thieves and any unwanted visitors.