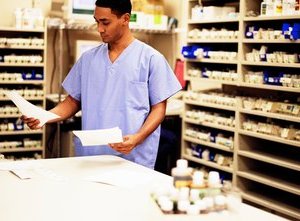 Reports to: Pharmacist,Pharmacist In-charge
Primary Objective Of Position
The Prescription Puller is responsible for pulling drugs for prescription orders when they are sent to the dispensary from Data Entry. All tasks and duties must be completed in accordance and compliance with HIPAA guidelines, State and Federal laws, and current company policies and procedures.
Key Responsibilities
Pulls prescription drugs to be checked by a Pharmacist then shipped to clinic or patientFiles prescription ordersManages destruction of out of date drugsOrganize and maintain the dispensaryNotifies Compounding Pharmacy Technicians about drugs that need to be made to fill ordersUpdates Awaiting Sterility and Back-order board for the Customer Service departmentPerforms other duties as assigned
Experience And Educations Requirements
High School diploma or equivalentMinimum of 1 year Customer Service experience1 year experience as a pharmacy technician preferred
Other Qualifications To Be Considered
Strong organizational skills that reflect ability to perform and prioritize multiple tasks seamlessly with excellent attention to detailAbility to pay close attention to detailTeam playerDemonstrated proactive approaches to problem solving with string decision making capabilityIndependently motivatedHighly versatile and resourceful team player, with the ability to also be effective independentlyProven ability to handle confidential information with discretion, be adaptable to various competing demandsDemonstrated ability to achieve high performance goals and meet deadlines in a fast paced environmentForward looking thinker, actively seeks opportunities and proposes solutions.
While performing the duties of this Job, the employee is regularly required to sit and use hands to finger, handle, and/or feel. Stand for long periods of time, walk, and regularly lift and/or move up to 25 pounds. The employee is required to communicate by speaking, the employee is required to listen to the needs of co-workers and/or customers and have the ability to write and communicate information to other co-workers. The employee is frequently required to climb on a small ladder, reach with hands and arms, frequent bending stooping and kneeling. Specific vision abilities required by this job include close vision. Reasonable accommodations may be made to enable individuals with disabilities to perform the essential functions.
Job Type: Full-Time
Wage: $12 – 14 hourly
Hours: Typically, 9:00am-5:30pm, 10:00am – 6:30pm, or 11:00-7:30pm, Monday-Friday, occasionally Saturday mornings 9:00am-12:00pm
Overtime: Optional
ADA Disclaimer: In developing this job description care was taken to include all competencies needed to successfully perform in this position. However, for Americans with Disabilities Act (ADA) purposes, the essential functions of the job may or may not have been described for purposes of ADA reasonable accommodation. All reasonable accommodation requests will be reviewed and evaluated on a case-by-case basis.
Tailor Made Compounding is an Equal Opportunity Employer.
Tailor Made Compounding is a high growth specialty pharmacy with job opportunities in Nicholasville, Kentucky. We are ambitious with an expanding national scope. We are informal, but strive for excellence. We are an innovative, fast-growing company guided by values that focus on teamwork, integrity and respect for our colleagues and customers. We are currently a closed-door pharmacy.