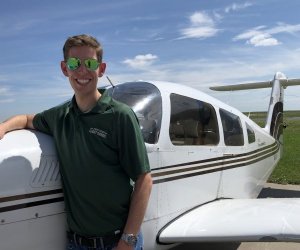 Frontier Airlines is committed to offering 'Low Fares Done Right' to more than 80 destinations in the United States, Canada, Dominican Republic and Mexico on more than 300 daily flights. Headquartered in Denver, Frontier's hard-working aviation professionals pride themselves in delivering the company's signature Rocky Mountain hospitality to customers. Frontier Airlines is the proud recipient of the Federal Aviation Administration's 2016 Diamond Award for maintenance excellence and was recently named the industry's most fuel-efficient airline by The International Council on Clean Transportation (ICCT) as a result of superior technology and operational efficiencies.
Facilitates all ground school instruction for pilots. Responsible for all phases of ground training for Initial, Upgrade, Requalification and Recurrent.
Essential Functions
Instruct Basic Indoctrination Ground Training, Initial Aircraft Ground Training, Emergency Training, Requalification Training, Recurrent Training – General Subjects and A320 Systems. Ensure compliance with Federal Aviation Regulations related to pilot training. Assist in new course development including: Crew Resource Management, Systems and Technical Training. May require working varying days (including weekends) and hours (including early morning and evening/night). FTD Training – as required Other duties as required
Knowledge, Skills And Abilities
Ability to communicate effectively to large groups Excellent organizational skills Ability to manage multiple tasks and priorities Must be highly motivated and possess strong initiative Proficient with MS Office products (i.e. MS Word, Power Point, Outlook, etc.)
Job Requirements
2 years of experience in training/instruction required (5+ years of experience piloting A320 aircraft may be considered in lieu) Must receive a satisfactory review on mandatory FAA observation One year of previous experience teaching the A320 aircraft in FAR 121 or 142 programs preferred FAA Certification (i.e., Ground School Instructor and/or Commercial Pilot) preferred Previous FAR 121 Fixed-Base of Full Flight Simulator experience preferred Some college preferred
Disclaimer: The above statements are intended only to describe the general nature and level of work required of the referenced position; they are not intended to be an exhaustive list of all responsibilities, duties, and skills required of individuals in this position. Please be advised that duties and expectations of this position may be subject to change.
Frontier Airlines, Inc. is an equal opportunity employer and, as such, is committed to providing equal employment opportunities to all qualified applicants without regard to race, color, religion, sex, national origin, age, marital status, veteran status, sexual orientation, gender identity or expression, disability status, pregnancy, genetic information, citizenship status or any other basis protected by federal, state, or local laws. This policy applies to all terms and conditions of employment, including: recruiting, hiring, placement, promotion, termination, layoff, recall, transfer, leaves of absence, compensation and training.
Frontier Airlines, Inc. is a Zero Tolerance Drug-Free Workplace. All prospective employees are subject to pre-employment testing for the following drugs and their metabolites: Marijuana (THC), Cocaine, Amphetamines (including methamphetamines and MDMA), Opiates (including codeine, heroine, 6-Am, and morphine) and Phencyclidine (PCP). Further, any applicant who is found to have tested positive on any required drug or alcohol test at a former employer will be considered ineligible for employment with Frontier.
SDL2019-256