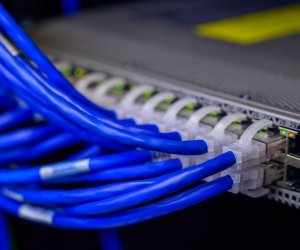 The Installer is responsible for successful project deployments and troubleshooting under the direction of project managers, department supervisors, foremen, and/or site leads. Gain experience in a variety of site settings, project requirements, and customer needs. Work includes voice, video, and data cabling, terminating and testing; telecommunications switch configuration and installation; fiber optic installations, termination, and testing; and security, wireless and audio-visual infrastructure installation, configuration, and troubleshooting. Responsible safety, tools, equipment, product, and lead/project manager communication.
Scope of the position: This position reports to the Superintendent, or Vice President of Operations if no Superintendent.
Responsibilities
Fiber optic installation, testing, and troubleshootingTelecommunications entrance and facilitiesExisting network mapping and documentationInstallation documentation, as-builtsWireless installationsDaily paperwork and communications requirements per Lead/Foreman, Superintendent (SUP), VP of Operations (VPO), and/or Project Manager (PM)Adhere to and enforce all company policies, procedures, and guidelines.Acts as advisor to help resolve job related issues. Keep Lead/Foreman, SUP, VPO, and PM informed of technical issues related to projects and personnelMaintain certification status and currenciesOccasional to regular travel required. Maintain valid driver's license and insurabilityMay include in- and out-of-state overnight travelMust maintain a professional work ethic and progression of skill setsOther duties as assigned by Superintendent or VP of Operations.
Matrixed ABcom relationships: Installers will work in conjunction with all other field members on and off job sites. Employee will converse with the Superintendent and Project Managers to determine schedule and discuss scope of work and other details pertaining to projects. All field members will maintain a professional relationship with customers, especially on site. Field members will occasionally act as the line of contact between various office staff and the customer on site.
Additional Information
ABcom Environment: – Fast-paced – Team Spirit – Family values – Innovative – Open Communication – Approachable leadership – Appropriate Work/Life Balance – DynamicWorking conditions: Position is primarily performed at the customer location so working conditions change constantly, from new construction to existing office building. Position requires monthly and other occasional shop meetings, held at the corresponding ABcom office.
Physical and mental requirements: Frequently, the employee is required to travel and/or work evenings and nights. The employee will be required to perform physical labor such as lifting, bending, and pulling. May also be required to drive a company vehicle.
Requirements
Knowledge and Skills (Minimum requirements):
Education, credentials, licenses: High school diploma or equivalent and driver's license.Specialized knowledge: Knowledge of voice, video, data, and security infrastructure a plus.
Experience: 0-3 years industry experience
Skills: A willingness to learn and ability to work with others is a must. Team player – Resourceful – Flexible – Accountable – Creative – Dependable – Problem-solving – Strong Work Ethic – Passion – Clear and Effective Communication – Organized and Detail Oriented
This position is physically demanding and requires repeated physical movement including all of the following for extended periods of time. Although several requirements are explained in this description, this is not to be considered an entire list of all policies, procedures, and requirements.
Adequate transportation is required. The responsibility of arriving to work is entirely up to each individual.
Passing a drug test, including marijuana is required. Employees are subject to random drug testing while working for ABcom.
A main function and requirement is to install Power Limited communication cables in pathways (ceilings, walls, and floors). The work is typically performed in office/industrial buildings where there is a controlled environment. There are times where the work is outdoors during construction and the environment is not controlled. In these situations, all field personnel must be able to perform these tasks and dress accordingly. All field personnel must be able to distinguish many different colors in different lighting situations. Must be able to communicate well in different audible environments. Required to wear different types of protective gear depending on the safety requirement. May be required to work in a confined space and at times work from aerial lifts and/or extension ladders.
Cable reels can weigh from one pound to several hundred pounds. Must be capable of lifting and loading cable, supplies, tools, and equipment (up to 75lbs individually) into a vehicle for transport to/from the job site and loading/unloading into the working area. In case of any heavy lifting, teamwork, proper equipment, and safe lifting techniques are essential. Must move ladders and/or lifts into position for throwing and reclaiming cable multiple times until the final destination is reached. Required to work at heights which can be in excess of 20 feet.
Cable terminations consist of inserting small, color coded wires into connectors using hand tools. This requires good hand/eye coordination and finger dexterity. The ability and safe use of power tools and test equipment is a required function of the job. Documentation is a required and essential function of the job and must be performed on daily basis with complete descriptions legibly filled out.
Daily work requires considerable climbing, walking, and standing, lifting, kneeling, and reaching. Sedentary tasks such as some troubleshooting, testing and terminating procedures are unpredictable and generally last for nominal periods of time. Required to perform many tasks in uncomfortable positions such as kneeling, bending, and crawling through spaces, performing work over head with your arms extended, crouching under a desk, or standing on a ladder.
Benefits
BENEFITS INCLUDE:
Medical and dental benefits Paid vacation and holidays Training 401K retirement plan