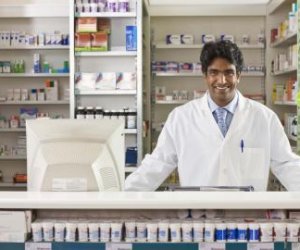 Green Thumb Industries (GTI)
About Green Thumb Industries
Green Thumb Industries (GTI), a national cannabis consumer packaged goods company and retailer, is dedicated to providing dignified access to cannabis while giving back to the communities in which they serve. GTI manufactures and distributes a portfolio of branded cannabis products including Rythm, Dogwalkers, The Feel Collection, incredibles and Beboe, among others. The company also owns and operates rapidly growing national retail cannabis stores called Rise™ and Essence. Headquartered in Chicago, Illinois, GTI has 13 manufacturing facilities, licenses for 95 retail locations and operations across 12 U.S. markets. Established in 2014, GTI employs approximately 1,400 people and serves thousands of patients and customers each year. GTI was named a Best Workplace 2018 by Crain's Chicago Business. More information is available at GTIgrows.com .
GTI just keeps growing and growing! We're looking for a Pharmacy Manager to be the mastermind behind all daily operations for our Toledo, Ohio location. Our perfect Pharmacy Manager is someone who loves to grind away at the details of inventory, financial records, and safety and security measures. But we're also looking for someone who can break through the haze of policies and paperwork to hire and shape our local team of passionate Patient Care Specialists and serve as an ambassador to the larger community, educating patients and enthusiasts about cannabis. A strong leader knows that success is always a joint effort, so the Pharmacy Manager will also excel at working with leadership from GTI Headquarters to help make sure GTI is smoking the competition at every level!
Team Leadership
Manage, supervise, and direct the activities of assigned staff and partner with Corporate Recruiting and HR teams to make recommendations regarding hiring, discipline, termination, or advancement of employeesCoordinate schedulingReview performance of other dispensary employees on a regular basisImplement dispensary policies and ensure staff follows best practicesManage and inspire internal staff to deliver the highest level of customer experienceProvide education and development for staff about medical cannabis strains, edibles, concentrates, and consumption mechanisms
Operations
Participate in developing and implementing operational rules, regulations, policies, and procedures to advance GTI's mission, vision, goals, and objectivesOversee and manage quality product inventory and financial recordsWork with GTI's VP of Marketing on marketing, promotions, and the maintenance of reports as they pertain to the daily operations and financials of the dispensaryManage financial records and cash handling proceduresWork with GTI's management team to create budgets and forecast salesSet sales, service, and profit goals and lead staff to exceed themWork with wholesalers to negotiate and procure an adequate supply of quality productsEnsures the Pharmacy/Dispensary operates in accordance to local and state regulations as well as GTI company policies & standards
Customer Service
Ensure the safety and satisfaction of every patient Maintain in-depth knowledge of every product and strain in the store, as well as industry-wide product knowledgeCompound and dispense medications accurately for delivery to patient care areasProvides timely and accurate medication information to patientsConsults patients and assesses patient's certification to determine best course of treatmentProcesses all medication order information into an electronic health record to ensure accuracy of records regarding past, current and future dispensing and chargingMaintain a comprehensive pharmacy patient profile. Oversee the packaging labeling, and distribution of medications for all patients and employees according to established policies, procedures, and guidelinesPartner with Community Outreach to provide accurate information to patients, medical providers, and the community at large while serving as a positive representation of GTI in the community
Qaulifications
7+ years of experience in a management environment3+ years as a licensed pharmacist Bachelor's degree in Business or related experienceMaintains OH Pharmacists licenseConstant interpersonal communicationAccountability for othersBalanced and intuitive decision makingPractical and proactive thinkingLead an organized workplaceCannabis experience preferredKnowledge and/or ability to use pharmacy information systemsKnowledge and ability to use automated and conventional pharmacy equipment
Additional Requirements
Minimum of 21 years of ageMust possess valid driver's license or state IDMust pass any and all required background checksMust be and remain compliant with any and all legal or company regulations for working in the industryMust be able to lift, carry, and balance up to 30 pounds (100 pounds with assistance). This job function may include walking or standing for extended periods of time, as well as stooping, bending over, and/or crouching
At GTI we believe that our corporate community should be a reflection of the communities we serve. We are dedicated to fostering an inclusive culture that celebrates diversity across race, sex, age, gender identity, sexual orientation, disability, nationality, religion, experience, and thought—not only because it is right, but because it makes us better. Our mission—the right to wellness—informs our commitment to champion economic opportunities in communities disproportionately affected by the war on drugs through employment and community involvement. GTI is proud to be an equal opportunity workplace.
We can't wait to meet you.