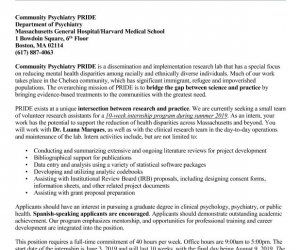 Forschungspraktikum Psychologie
60-100% per sofort oder nach Vereinbarung
Research internship psychology
60-100% immediately or by appointment
Das Institut für Rechtsmedizin bietet ab sofort oder nach Vereinbarung ein bezahltes Praktikum für 6-9 Monate im Rahmen einer spannenden, vom Bund geförderten klinischen Studie zu CBD-Cannabis und Fahrfähigkeit ("CBDrive").
The Institute of Forensic Medicine is now offering a paid internship for 6-9 months as part of an exciting, federally funded clinical study on CBD cannabis and driving ability ("CBDrive").
Ihre Aufgaben
Sie unterstützen uns bei der Organisation und der Durchführung von neuropsychologischen Tests, bereiten Studienmaterialien vor, arbeiten mit bei der Rekrutierung von Probanden sowie bei der Datenverwaltung und -aufarbeitung.
Your Tasks
You support us in the organization and implementation of neuropsychological tests, prepare study materials, work with the recruitment of subjects as well as in data management and processing.
Ihr Profil
abgeschlossenes Bachelorstudium und laufendes Masterstudium oder abgeschlossenes Masterstudium in Psychologie oder einem verwandten Fachgebiet Erfahrung im Umgang mit Studienteilnehmern sowie in der Durchführung neuro-psychologischer Testverfahren und in der Anwendung klinischer Screening-Instrumente Hervorragende Deutsch- sowie Software-Anwenderkenntnisse
Your Profile
Completed bachelor's degree and ongoing master's degree or master's degree in psychology or a related subject Experience in dealing with study participants as well as in the implementation of neuro-psychological test procedures and in the use of clinical screening instruments Excellent knowledge of German and software
Wir bieten Ihnen
Wir bieten einen spannenden Einblick in ein Forschungsprojekt mit gesunden Probanden in einer interdisziplinären Arbeitsumgebung (Verkehrsmedizin, forensische Toxikologie).
We offer you
We offer an exciting insight into a research project with healthy subjects in an interdisciplinary work environment (traffic medicine, forensic toxicology).