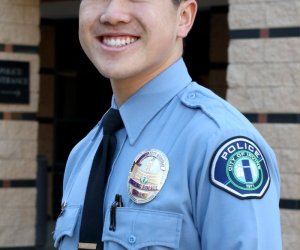 San Manuel Band of Mission Indians
Under the direction of the Shift Sergeant, the Public Safety Assistant (PSA) is a uniformed position responsible for providing physical security to the San Manuel Band of Mission Indians (SMBMI) Reservation and all of its tribal members, customers, facilities and operations, including the San Manuel Casino. The PSA must deliver critical security services in a business oriented, courteous and professional manner. This position requires exceptional customer relations skills.
Essential Duties & Responsibilities
Ensures establishment and its surrounding premises are protected at all times by providing security of persons, buildings, and assets of the organization through a variety of security techniques and methods.Responds to requests for assistance and information in a helpful and courteous manner.Patrols and observes the grounds and facilities of the organization in a manner consistent with guidelines and applicable laws, policies and procedures.Maintains care and control of authorized equipment and issued uniforms.Patrols and observes, while assigned to an area, whether in a vehicle, or on foot; buildings, offices, or streets to determine whether conditions appear in order or if suspected violations of applicable laws are present; notifies the Security Operations Center of any suspected violations or emergencies.Maintains a visual presence within the San Manuel Casino and its surrounding properties.Conducts fixed post security and operates access control gates in the San Manuel Casino, Tribal Reservation, and off-reservation properties.Responsible for casino related security details, such as chip-fills, special audits, cash dispensary unit operations, etc.Completes preliminary investigative reports into non-criminal incidents such as minor patron/employee illness/injuries, found property, etc. and criminal investigations into minor incidents that do not involve contacting suspects in compliance with departmental procedures, and makes oral reports as needed. Reports are for documentation purposes only and follow up investigations with be conducted by Public Safety Officers or the Investigations Unit.Uses a variety of quality customer service oriented communication skills, and special techniques to interact formally and informally with community groups and customers of all backgrounds. Provides information about policies, procedures and ordinances as they affect the visiting public and maintains good public relations with internal customers and vendors.Directs and controls pedestrian/vehicle movement and insures that walkways, entrances/exits and fire lanes are clear. Directs patrons and guests to safe areas during incidents.Maintains a visual presence within San Manuel Casino and its surrounding properties.Provides various other services as delegated or required.
Education/Experience/Qualifications
High School Diploma or GED required.Must be at least 21 years of age.Excellent customer service skills.Working knowledge of security procedures.Must have the ability to observe situations analytically, and objectively, and to record pertinent information accurately and completely and provide service with skill, firmness, tact and impartiality.Must accurately recall and express one's self clearly and concisely, orally and in writing.Must remain calm under stressful conditions, exercise reasonable judgment and make sound decisions especially during emergency situations.Must operate a motor vehicle safely and have knowledge of state and local motor vehicle laws.Must be well groomed and clean. Hair must be neatly groomed and styled so that it remains above the ears and is not allowed to extend below the collar. Mustaches, when worn, must be neatly trimmed and not extended beyond the corners of the mouth, nor hang below the top lip. Must abide by DPS policies concerning uniform appearance.Must demonstrate the ability to produce well-written documents with regards to spelling, grammar, punctuation, organization and content as evidenced by a written assignment or test during the hiring process.
Certificates/Licenses/Registrations/TrainingMust possess a valid California driver's license with acceptable driving record as determined by the insurance carrier.At the discretion of the San Manuel Tribal Gaming Commission you may be required to obtain and maintain a gaming license.Must be able to comply with all current requirements set forth by the California Bureau of Security and Investigative Services (BSIS) for Security Guards within 90-days of employment.Must successfully pass BSIS course in Powers of Arrest Certification. Responsible for maintaining a valid BSIS Guard Card.Must successfully complete a Field Training Program during the 90-day introductory period.Must successfully participate in mandated in-service training. This includes, but is not limited to, weaponless defense techniques, chemical agent/Pepper Gel (optional), first aid, CPR, powers of arrest, traffic and pedestrian movement control, security details throughout the property and off-site business locations, report writing, applicable policies and procedures, and access control duties. Must successfully complete New Employee Orientation training, which will include National Incident Management System (NIMS) courses.
San Manuel Band of Mission Indians and San Manuel Casino will make reasonable accommodations in compliance with the Americans with Disabilities Act of 1990.
As one of the largest private employers in the Inland Empire, San Manuel deeply cares about the future, growth and well-being of its employees. Join our team today!
R0001978