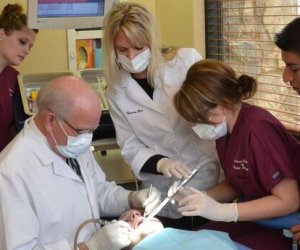 Midwestern University (IL)
Summary
The Practice Assistant provides assistance to the dentist and student dentist when it relates to examining and treating patients. The Practice Assistant is also responsible for the day to day maintenance of the Dental Institute, including the management of materials, equipment and supplies. The Practice Assistant works in multiple areas within the Dental Institute on a rotational and/or specific assignment system. The Practice Assistant reports directly to the Practice Assistant Supervisor.
Essential Job Functions
Professionalism & Collegiality
Model and ensure professional and collegial behavior Maintain a positive working environment Provide an environment of high quality, open and respectful communications
Equipment, Instrument and Consumable Supplies
Participate in the cycle of equipment, instruments and supplies Deliver instrument carts to the Clinical Care Coordinators and the Clinical Care Faculty. Check out equipment, instrument and supplies to the dental provider Check used instruments and equipment back in Deliver instrument carts with used supplies back to the sterilization room and return used instruments.
Group Practice Clinic Functionality
Schedule and confirm appointments with the goal of optimizing clinic utilization. Among other tasks, it will include the systematic review of various student schedules, review of reports for patients with overdue appointments, and proactively managing the clinic schedule to ensure that available clinic times are utilized. Keep treatment records. Report malfunctioning equipment to appropriate personnel. Identify and report general maintenance problems. Assure presence of necessary materials. Maintain the materials and supplies necessary for day to day operation of the Clinical Care Coordinators and the Clinical Care Faculty. Request materials necessary for day to day operation of the Clinical Care Coordinators and the Clinical Care Faculty. Assure adherence of all clinic policies including infection control guidelines Participate in instrument, equipment and supply management. Receive, greet and prepare patients for treatment Acquire digital radiographs, intra-oral, extra-oral and Cone beam computed tomography Assist dental students with acquisition of above dental radiographs Oversee and teach the correct radiographic technique to dental students and practice assistants Assist dental students in planning and ordering lab fabricated surgical guide Oversee and maintain sterilization and disinfection of radiology instruments and equipment Import outside radiographs into patient electronic chart Assist with dental operatory equipment infection control Assist dental students and outside candidates with acquisition of radiographs for WREB/ ADEX Assist in the training / retraining of employees Record keeping of radiation dosimetry Facilitate the daily working of the radiology clinic and assist radiology faculty
Education and Compliance
Function as an integral component in the quality assurance of College of Dental Medicine – Arizona. Work with student dentists, staff and faculty to assure adherence to all clinic policies and regulatory requirements such as infection control guidelines, OSHA standards and HIPAA privacy and security protocols. Provide information on violations of clinic policies to the Clinical Care Coordinators and the Clinical Care Faculty or designate.
Sterilization and Dispensing
Responsible for the dispensing, collecting, and processing of dental instruments, equipment, and consumable supplies utilized in the College of Dental Medicine – Arizona clinics for the treatment of patients, both real and simulated as well as for the education of student doctors. Prepare and process instruments, supplies and equipment. Clean, disinfect, sterilize, package and restock instruments, supplies and equipment. Utilize aseptic techniques when handling instruments, equipment and supplies. Track, inventory and dispense dental instruments, supplies and equipment. Package and sterilize disposable supplies such as gauze, cotton rolls, and cotton pellets. Assist with data entry, ordering and sorting clinical supplies. Maintain the organization, cleanliness and general appearance of the sterilizing, and dispensing rooms and their related storage facilities. Maintain the stock of supplies needed to properly run the sterilizing and dispensing rooms, such as autoclave bags, tape, towels, patient's drapes, caps and etc. Assist in the training of new employees Educate staff, faculty, and students about sterilization and infection control issues
Chair Side Dental Assisting
Provide chair side dental assisting, when required. While this is not an exhaustive list, the Practice Assistant will: Transfer dental instruments Adjust equipment to proper position Manipulate and transfer dental materials Retract soft tissue Evacuate the oral cavity of debris to maintain a clear field of operation Make diagnostic quality radiographic images Set up and maintain dental cubicles Utilize aseptic techniques Follow up on proper infection control guidelines
Additional Responsibilities
Bilingual/fluency in Spanish and English preferred Assist with shelf organization for dispensary Assist in the Sterilization Department, as needed Dispense items to students and clinical instructors as needed. Assist with organization for dispensary and suites Participate in Dental Clinic meetings. Assist in hygiene and emergencies when needed. Adaptable to shift changes Other duties may be assigned.
Supervisory Responsibilities
The position has no supervisory responsibilities.
Qualifications & Skills Required
To perform this job successfully, an individual must be able to perform each essential duty satisfactorily. The requirements listed below are representative of the knowledge, skill, and/or ability required. This individual must have the ability to work in a constant state of alertness and safe manner and must have regular, predictable, in-person attendance. Reasonable accommodations may be made to enable individuals with disabilities to perform the essential functions.
Other Qualifications
This position requires a significant amount of interaction with the public and many internal customers and therefore, the individual must be able to develop positive rapport effectively. The ability to maintain a professional demeanor, be detail oriented and promote a welcoming atmosphere is essential. The individual must have the ability to become familiar with axiUm Dental Software Management System. This position requires the working knowledge of how to use digital radiology.
Education And/or Experience
High school diploma or GED required. 3-5 years of clinical practice experience required. Radiology and CPR certification is required. Registered Dental Assistant is preferred. Associate's and/or Bachelor's degree preferred. Familiarity with OSHA guidelines. Experience working in a team and customer service oriented environment. Excellent written and verbal communication skills.
Computer Skills
Computer proficiency in MS Office (Word, Excel, Outlook). Ability to become familiar with the Axium Clinic Management System.
Language Skills
Intermediate skills: Ability to read and interpret documents such as safety rules, operating and maintenance instructions and procedure manuals. Ability to write routine reports and correspondence. Ability to speak effectively before groups of customers or employees of organization.
Reasoning Ability
Basic skills: Ability apply common sense understanding to carry out detailed but uninvolved written or oral instructions. Ability to deal with problems involving a few concrete variables in standardized situations.
Mathematical Ability
Basic skills: Ability to add, subtract, multiply, and divide all units of measure using whole numbers, common fractions, and decimals. Ability to compute rate, ratio, and percent and to interpret bar graphs.
Physical Demands
The physical demands described here are representative of those that must be met by an employee to successfully perform the essential functions of this job. Reasonable accommodations may be made to enable individuals with disabilities to perform the essential functions.
While performing the duties of this job, the employee is frequently required to stand, walk, stoop, kneel, crouch or crawl, use hands to handle or feel, reach with hands and arms, talk and hear. The employee is occasionally required to climb or balance and sit. The employee must frequently lift and /or move up to 10 pounds and occasionally lift and/or move up to 25 pounds. The employee is regularly required to push up to 40 pounds. Specific vision abilities required by this job include close vision, color vision, depth perception and ability to adjust focus.
Work Environment
The work environment characteristics described here are representative of those an employee encounters while performing the essential functions of this job. Reasonable accommodations may be made to enable individuals with disabilities to perform the essential functions. The noise level in the work environment is usually moderate.
Midwestern University is an Equal Opportunity/Affirmative Action employer that does not discriminate against an employee or applicant based upon race, color, religion, gender, national origin, disability, or veterans status, in accord with 41 C.F.R. 60-1.4(a), 250.5(a), 300.5(a) and 741.5(a). Midwestern University complies with the Smoke-Free Arizona Act (A.R.S. 36-601.01) and the Smoke Free Illinois Act (410 ILCS 82/). Midwestern University complies with the Illinois Equal Pay Act of 2003 and Arizona Equal Pay Acts.