Part Time
Anywhere
Applications have closed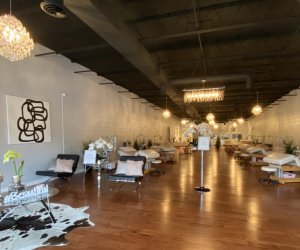 Lanier Technical College – (www.laniertech.edu) is conducting a search for the following part-time, non-benefits eligible, FLSA non-exempt position. NOTE: A background check is part of the selection process. Please contact Human Resources at 770-533-6903 or [email protected] if any assistance/accommodation is needed in the application/interview process.
POSITION: PART-TIME ESTHETICS LAB ASSISTANT – HALL CAMPUS
REPORTS TO: ESTHETICS PROGRAM DIRECTOR AND INSTRUCTOR
Responsibilities
Works under the direct supervision of the faculty member and performs routine standardized laboratory work that requires close attention to detailed procedures in the preparation, basic maintenance, and operation of laboratory equipment. Will assist in maintaining inventory and requisition of supplies. Will assist faculty members in supervision of students assigned to laboratories, and other related duties as assigned by Supervisor. Is employed on an individual academic term basis.
Major Duties
Assist faculty members with classroom instruction, exams, record keeping, adherence to safety procedures, and other miscellaneous tasks related to instruction.
Check emails daily and respond to administrative training in a timely manner. Assist students with Spa Managerial duties: Receptionist, Dispensary, etc.
Assist and supervise students with clients.
Assist and supervise students in all aspects of Esthetics training.
Manage the cleanliness for the spa. Assist with sanitation and disinfection of supplies, implements, and equipment. Assist with laundry
Assist Instructor with inventory, and checking in ordered supplies.
Follows ALL deadlines as established by Lanier Technical College.
Follows rules and regulations as mandated by TCSG policy manual and Lanier Technical College.
Competencies
Ability to research technical issues
Attention to detail Ability to operate job-related computer software programs Ability to manage time Quality management skills Customer service skills Excellent oral and written communication skills times.
Participate in technical training as necessary.
Assist with special projects or initiatives as needed.
Minimum Qualifications
High school diploma or equivalent. Current Esthetics license from the state of Georgia AND/OR current cosmetology license from the state of Georgia (must include a copy(ies) with your information).
This position is available at the Hall campus; and day and evening classes available.
NOTE: This is a temporary, part-time position that is appointed on a per-academic-term basis. This is an hourly-paid position; up to 29 hours per week while classes are in session.
Lanier Technical College is an equal opportunity employer and does not discriminate on the basis of race, color, creed, national or ethnic origin, gender, religion, disability, age, political affiliation or belief, genetic information, disabled veteran, veteran of the Vietnam Era, or citizenship status (except in those circumstances permitted or mandated by law).
NOTICE: Federal law requires all employers to verify the identity and employment eligibility of all persons hired to work in the United States. Lanier Technical College is a registered participant in the federal work authorization program commonly known as E-Verify. Lanier Technical College Federally-Issued User ID: 46367 Date of Authorization: 3/28/2007
It is the obligation of our College to ensure orderly operation, to protect the rights of all members of the LTC community, to prohibit acts which materially and substantially interfere with legitimate educational objectives, or interfere with the rights of others and to take disciplinary action where conduct adversely affects the College's pursuit of its educational objectives. To this end, LTC complies with the Title II of Public Law 101-542, Crime Awareness and Campus Security Act – also known as the "Jeanne Clery Act." The Act requires that the College make available the report of campus crime statistics for the previous fiscal year by October 1st each year. The most recent LTC Campus Safety and Security Report is available at www.laniertech.edu. You may also request a paper copy from the Lanier Technical College Police Department located in the Breeden-Giles building on the Hall County Campus, 2535 Lanier Tech Drive, Gainesville, GA 30507.
Note: No phone inquiries please. Due to the volume of applications received, we are unable to personally contact each applicant. If we are interested in scheduling an interview, a representative from our college will contact you.
In order to build and maintain an active pool of qualified candidates to meet our present and future needs for this position, Lanier Technical College will accept applications on a continuous basis. Openings may or may not exist at this time. Applications are evaluated on an as-needed basis, and candidates will be contacted only when the Hiring Manager has an opening. Candidates that submit their information may or may not be notified as to the status of their application.
Lanier Technical College – LTC
Job Posting
May 18, 2020
Primary Location
GA-Hall-Gainesville
Job
Education
Shift
Variable
Application Procedure
Please Click below on "Apply Now" to submit your resume and cover letter, copies of unofficial transcripts (if applicable), and copies of all certifications. Official
transcripts required upon employment.