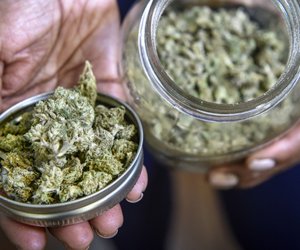 Position Title: Medical Marijuana Compliance Officer
Annual Salary Range: $50,256.00 – $55,104.72
Highlights
This position will be 100% telecommute after an initial 2-4 week training program in Jefferson City.Candidate must be willing to travel to any facility within the State of Missouri.
As a Medical Marijuana Compliance Officer, you will have the opportunity to join a team of dedicated individuals building a new regulatory program from the ground up.You will gain specialized knowledge in many areas of Missouri State Government that work in coordination with the Section for Medical Marijuana Regulation.Acting as a compliance unit point of contact to licensees, you will provide valuable education and guidance to facilities to achieve the Section's 'Compliance First' mission.
Job Description
Reviews facility plans and documents, including schematics and security plans.Utilizes computer skills to input and review data efficiently among multiple software programs and functionalities.Practices strong attention to detail while conducting both routine and unannounced on-site inspections along all medical marijuana facility types.Reviews complaints submitted to the Section for Medical Marijuana Regulation and works with other agencies and management to determine appropriate remediation methods.Exercises an ability to understand and apply complex rules and law in compliance regulation.Prepares and issues thorough and consistent inspection reports, in accordance with regulatory requirements.Exercises a strong team mentality by coordinating with other sections of the program and escalating issues to the Regional Compliance Manager as needed.
Job Knowledge, Skills, And Abilities
This is a fast paced position with ever changing priorities and deadlines. A Compliance Officer must apply a strong analytical thought process in reviewing multiple types of documents, data, and schematics.Prior experience with inspections, lab work, horticulture, or chemistry is a plus but not a requirement.The person in this position must have a strong commitment to professionalism and an ability to carry out their duties with the utmost integrity, even in high pressure situations.
Qualifications
Demonstrated knowledge and experience in facility inspections, regulation, compliance, compliance audit or investigatory techniques.
Demonstrated skills in compliance, inspections or investigations dealing with complex and highly regulated entities.Demonstrated high level of organizational skills, timeliness and accuracy.Strong interpersonal skills and ability to effectively communicate with department officials, facility owners, and staff.Strong written communications skills is essentialExperience with technology tools.
Investigator III
One or more years of experience as an Investigator II with the Missouri Uniform Classification and Pay System; and possession of a high school diploma or proof of high school equivalency.
OR
A Bachelor's degree from an accredited college or university with a minimum of 15 earned credit hours in one or a combination of the following: Criminal Justice, Law Enforcement, Criminology, Business Administration, social sciences, environmental sciences, or a closely related field; and ,
Three or more years of civil, administrative, or criminal investigative (non-clerical) experience (e.g., tax fraud, licensing, environmental, client care, public assistance, insurance, or military); or experience as a law enforcement officer with responsibility for conducting investigations.
(24 earned graduate credit hours from an accredited college or university may substitute for a maximum of one year of the required experience.)
(Additional qualifying experience may substitute on a year-for-year basis for deficiencies in the required college education.)