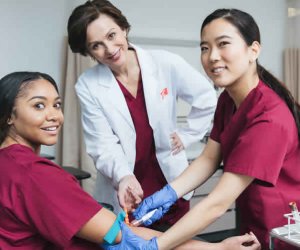 Medical Assistant (MA)
About Vera
Vera Whole Health is a national leader in advanced primary care. Our time-rich model emphasizes empathetic listening and behavior change – rather than profit – as the key to whole person health. We go beyond the symptoms to help people achieve optimum social, psychological, and physical well-being. We're also the first provider in the United States to earn a Certificate of Validation from the Validation Institute for sound population health cost outcomes.
When you come to work at Vera, you become part of a company who is committed from the top down to changing healthcare for the better. Our culture is built on empathy, trust, challenge, innovation, and growth. Join our health revolution and work with a team of knowledgeable, experienced, and dedicated medical professionals who are as passionate as you are about improving patient health.
About Team
As a care team member, you are able to do what you love more fully and effectively, accompanying patients on each step of their health journey. With health coaches embedded in your team, you'll also be able to provide valuable guidance through each stage of behavior change so that patients become empowered in their health journeys.
About Role
As a Medical Assistant at Vera Whole Health, you provide support in delivering excellent patient service, clinical care, and front office duties. A team player, you help to ensure that the care center runs efficiently by managing the flow of patient services, monitoring resources, and working collaboratively with providers. You are adaptable, able to navigate change and work through ambiguity in a fast-paced environment.
"Vera allows me the time to really connect with my patients and when trust is established, they are more willing to share information that will truly make a difference in their health.".
— Siobhan Holcombe, Medical Assistant and Site Lead, Vera Whole Health
You Will
Essential Functions
Uphold the mission, vision, and values of Vera Whole HealthTake vital signs, record in EMR, perform systems review and point of care testing, and assist providers with diagnostic testsAdminister immunizations, injections, or oral medications as directed by provider or standing orderPerform point of care testing and assist providers with diagnostic tests, treatment and therapeutic measures, and observe and record patient reactionsPerform phlebotomy, prepare designated lab work and/or specimens as directed by provider or standing orderManage patient care flow, set up exam/procedure room appropriately based on patient visit needsHandle multiple phone lines and email correspondence, exhibiting excellent verbal and written communication skills, and working at the front desk as neededPerform inventory of care center supplies and dispensary, order and stock care center supplyWhere necessary, act as the external-facing representative for the care center (scheduling appointments over the phone, patient registration, etc.)Engage in routine patient education, self-management teaching under the direction of the providerCoordinate care with disease management or case management programsTrack future patient care needs such as preventive exams, completion of outside diagnostic testing, and referralsCoordinate referrals, care gap closures, release of records, and overall care through patient and specialist outreach
Education & Experience
You Have
High school diploma or GEDState Licensed Medical Assistant Certification, AAMA preferredGraduated from an accredited medical assistant programMinimum 2 years of experience, primary care preferredExperience setting up exam rooms applying basic understanding of cleaning, sterilization, and autoclaving proceduresExperience working in EMR systems, NextGen preferredExperience in coding and documentation, including Medicare Advantage and HCC
Benefits
Transforming healthcare isn't easy. It takes hard work and dedication. That's why we offer a highly competitive compensation and benefits package. Here are just a few of the benefits you'll receive.
Premium medical, dental, and vision coverage, matching 401(k) program, generous PTO (up to 4 weeks), and paid holidaysCulture of continuous learning and development, including generous continuing medical education expense coverage, one-on-one development coaching, and team coaching programsAccess to Vera care center services, VeraDirect telehealth, health coaching, and Annual Whole Health HSA incentivesWellness culture, fitness center reimbursement, healthy snacks, parking and transportation benefits
Vera Whole Health is an equal opportunity employer. We celebrate diversity and are committed to creating an inclusive environment for all employees.