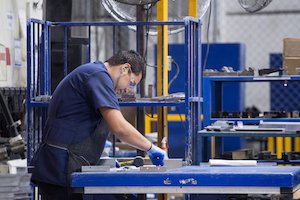 The Manufacturing Operator performs functions relating to the processing of drug products, ensuring product compliance to established current Good Manufacturing Practices (cGMPs), customer requirements and in conjunction with all Standard Operating Procedures (SOPs). Follows standard procedures to complete tasks, some of which may vary in scope, sequence, complexity and timing. Applies skills and knowledge to recognize issues and to increase efficiency, throughput and quality. Understands and runs processes to meet the assigned standards/routers and fulfills the assigned schedule; when these are not achieved, participates in the debrief to understand the reasons why and what needs to be corrected moving forward. Assists in troubleshooting process issues. Responsible for the safe and efficient execution of job duties.Manufacturing Process§ Operates pharmaceutical production machinery and follows the procedures for manufacturing such as weighing, blending, dispensing, mixing, coating, encapsulating, granulating, drying, milling, blending, compressing, potent compound, etc. Meets the requirements for use of manufacturing equipment and other commonly used equipment per SOPs.§ Executes written SOPs to ensure the purity of materials involved in the manufacturing process.§ Properly uses all scales, including printouts, zeroing, setting tares, and daily calibration verification per SOPs.§ Examines manufacturer Product ID Labels, Quality Control release tags, and Batch Production Record to verify issued/staged raw materials can be released for production.§ Cleans manufacturing equipment and facilities according to established SOPs.§ Executes machine change-overs from batch to batch.§ May sample batches for quality testing. Executes required in-process product quality checks and documents accurately.§ Understands and runs processes to meet the assigned schedule and standards/routers; when this is not achieved, participates in the debrief to understand the reasons why and what needs to be corrected moving forward.
Documentation§ Completes documentation associated with manufacturing processes (e.g. batch record, protocols, and logbooks) with detail and accuracy.§ Meets requirements for entries on all applicable Batch Production pages, completion and attachment of all dispensary and weight verification tickets.§ Verifies the manufacturing process on BPR in an accurate and timely manner.§ Provides status updates and operational challenges on status boards.
Continuous Improvement§ Assists in troubleshooting process issues; refers deviations from standard procedure to the supervisor.§ Typically participates in at least one continuous improvement project of a moderate scope and complexity.
Safety & Compliance§ Carries out processing/manufacturing activities safely, as required, on a daily basis.§ Follows all safety and compliance procedures and participates in required training.§ Adheres to all cGMP compliance/regulatory mandates and quality requirements.§ Participates in safety teams, start-up discussions, incident debriefing sessions, etc.§ Ensures compliance with SOPs, policies and procedures as required by the Company and regulatory agencies.§ Maintain a clean, organized, work area.§ Conforms to all training requirements, including company required and machine-specific training.
Teamwork & Collaboration§ Contributes to team and project success by sharing previously acquired knowledge.§ Collaborates typically within own cross-functional work unit and occasionally with contacts outside own unit or department.
§ HS diploma or equivalent with a minimum of 2-4 years of manufacturing experience and certification in assigned area, as required or proficiency demonstrated in competencies as required.§ Forklift certification may be required for certain jobs.  § Knowledge of cGMPs.§ Has solid working knowledge and skills in procedures, techniques, tools, materials and/or equipment needed for the position. § Basic math, reading, legible writing skills, and problem solving abilities.