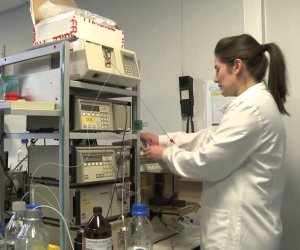 When you're part of the team at Thermo Fisher Scientific, you'll do important work, like helping customers in finding cures for cancer, protecting the environment or making sure our food is safe. Your work will have real-world impact, and you'll be supported in achieving your career goals
What will you do?
Monitor chemical dispensary for timely disposal of chemicals through VeoliaOrganize, maintain, clean, and restock central core lab function areas on a daily basis Support laboratory staff as requested in routine lab activities including tube labeling, retrieving plated cells from the vivarium, preparing vehicles when needed, collecting tissue weights, among other basic tasks Empty instrument waste containers as neededOrganize and ethanol wipe down storage shelves in cold roomsRemove expired reagents and chemicals from the cold room and other common areasCollaborate with EH&S to ensure proper safety techniques are in practice by all when working in the labMonitor use of chemicals in the chemical dispensary and re order as neededMaintain a log of chemicals currently stored in the chemical dispensaryClean and maintain sink areasCalibrate pH meters, and ensure routine calibration of balances Assist with fridge/freezer defrosts during lab clean outsAssist with decommissioning and decontaminating equipment as needed
Common Tissue Culture Room Services
Bleach and empty waste containersRestock suppliesClean and add water to incubators Refill and clean water bathsRefill 70% ethanol bottles in tissue culture roomsSubmit request for decontamination for tissue culture incubatorsMonitor incubator water levels and CO 2 levels (contacting the appropriate LIS agent for assistance if and when needed) Maintain cell counter by performing weekly calibrationTest pipettes in central core facilities and send for calibration monthly
Equipment
Run simple maintenance on selected laboratory equipmentSubmit requests (on behalf of the scientists) for instrument repairs into the LIS systemContact vendors and technicians when there is an issue or upgrade needed for instrumentsContact vendors and technicians for scheduling demonstrations of new instruments and training on both older and newly purchased instruments as needed
Logistics
Assist in shipping out processes i.e. submitting appropriate shipping forms and bringing down packages when ready for out of site deliveryDeliver compound plates and other biologic upon arrival
Consumables Provisions & Inventory
Monitor Central inventory center and work with vendor to optimize organizationMaintain a log of ordered supplies and re order supplies, solvents, and chemicals when necessary and within authorized limitsRestock supplies in core and satellite labs / roomsRestock satellite labs (e.g. specialty rooms) from central inventories Monitor, order and replenish safety glasses dispensers for assigned labsReplenish instrument buffer suppliesMonitor cold room inventory (media, buffers, agar plates)
How will you get here?
Education
Bachelor of Science in Life Sciences, Physics, Biology or related field preferred, but demonstrated equivalent experience or capability accepted High School Diploma required
Knowledge, Skills And Abilities
Experience in a technical laboratory and a demonstrated organizational abilityMust possess good working familiarity with analytical laboratory testing equipment, laboratory procedures & protocols.Familiarity with computers and software programsAbility to support numerous tasks and responsibilities concurrentlyAbility to interpret a variety of instructions furnished in written, oral, diagram, or schedule formBroad understanding of biology, emphasis in bio therapeutic drug discovery is a plusLarge laboratory experience across many technology areas including an animal facilityExperience with 5S organization methodology or equivalent in laboratories would be beneficialExperience & understanding of purchasing software (Ariba) would be beneficial
At Thermo Fisher Scientific, each one of our 70,000 extraordinary minds has a unique story to tell. Join us and contribute to our singular mission—enabling our customers to make the world healthier, cleaner and safer.