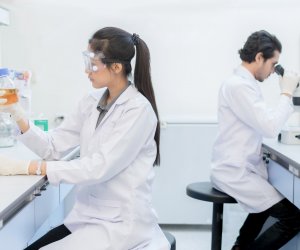 Job Title – Laboratory Technician
Company – Genesis Organic Analytical Testing Labs
Location – Vancouver, WA 98662
Salary – $17.00 – $20.00 per hour
Job type – Part-time
Genesis Labs is looking for an Analytical Laboratory Technician. If you are interested in being part of one of the fastest growing industries in Washington State, work with us at G.O.A.T. Labs. We are an I-502 accredited lab performing cannabis analysis.
Job Description –
In the role of Analytical Technician, you will be assigned the following responsibilities:
Performing sterile microbial preparation, plating, and interpretation of results.
Daily checks of lab support equipment.
Test sample extractions and dilutions to execute High Performance Liquid Chromatography (HPLC) or Gas Chromatography Mass Spectrometer (GCMS).
Maintaining an accurate list of test specimens received into the Lab and proper sample tracking throughout testing.
Following the Laboratory's Standard Operating Procedures (SOP).
Actively participating in the care and maintenance of laboratory instrumentation.
Taking routine inventory of laboratory consumables.
Minimum Qualifications –
Bachelors Degree in Chemistry, Biology or a closely related field.
6 months – 2 years of relevant experience. Relevant experience is considered laboratory experience outside of an academic setting. An exemplary academic record (GPA >= 3.0) can take the place of relevant experience.
Must be 21 or over.
Basic computer skills (Excel, Word, Adobe).
Detail oriented.
Applicant Questions –
How many years of lab experience do you have?
What is the highest level of education you have completed?
Are you within 45 minutes of Vancouver, WA 98662?
Apply method: Email ([email protected])