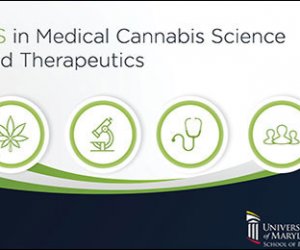 University of Maryland, Baltimore (UMB)
Instructor Positions (Non-Tenure Track)
University of Maryland School of Pharmacy
Department of Pharmaceutical Sciences
(Position #05-178-69)
*POSITION SUMMARY*
The University of Maryland School of Pharmacy is conducting an open search for several qualified candidates to fulfill the faculty position of Instructor (non-tenure track) for the MS in Medical Cannabis Science and Therapeutics within the Department of Pharmaceutical Sciences. The MS in Medical Cannabis and Therapeutics is a two-year professional master's degree, with the majority of activities delivered online, supplemented by on symposium each semester at the Universities at Shady Grove. This program is comprised of history, science, therapeutic, regulatory, and law courses. The student population for the program possess a diverse range of backgrounds including, healthcare professionals, basic scientist, regulatory professionals and law enforcement. Experience with graduate education and a familiarity with online education are strongly desired. This position is a full-time, non-tenure track, 12-month appointment.
The University of Maryland, Baltimore campus houses schools of Pharmacy, Medicine, Nursing, Social Work, Law and Dentistry. Additionally, the School of Pharmacy has a satellite campus at the Universities of Shady Grove in Rockville, Maryland. The University of Maryland enjoys an excellent established record of accomplishment of successful collaboration for interprofessional practice and research collaborations with the other professional schools on campus.
*SUPERVISORY CONTROLS*
This position is responsible to the Chair of the Department of Pharmaceutical Sciences with teaching responsibility to the Graduate Program Director and Vice Chair of Academic Affairs.
*ACADEMIC RESPONSIBILITIES AND ESSENTIAL FUNCTIONS*
Demonstrate teaching excellence in Certificate and Master Degree education offered online at the University of Maryland School of Pharmacy in the MS in Medical Cannabis Science and Therapeutics program, with a focus on the science aspects of the program. Deliver intercultural communication, leadership, health science research, quality improvement instruction to graduate students. Create, facilitate, interact and moderate on-line classroom activities. Evaluate and grade students' coursework, assignments, and papers within the timeframe set forth by the School policy providing effective feedback to guide student learning and success. Engage in the classroom/online and reply to emails, etc. at least every other day, including one day during the weekend. Provide appropriate feedback on all course work. Participate in professional development to enhance teaching skills, scholarship and service. Assure quality curriculum design, ensure discipline, program and course continuity, currency, and relevance. Update course content and materials and/or delivery methods, based on information such as emerging medical practice changes in the discipline, instructional effectiveness data, current or future performance requirements, feasibility, and costs. Analyze courses and prepare analysis for program and course reviews. Remain aware of new science advances in the area of medical cannabis, curricular committee changes, virtual classroom procedures, UMB requirements, and instructional materials. Attend (in person or through technology) regular meetings with program directors and faculty to stay aware of how their courses fit within the overall program progression of students. Contribute to advancing the discipline as a leader through education research and service.
*TEACHING*
Expertise in Medical Cannabis and Therapeutics.
*SERVICE TO THE UNIVERSITY, SCHOOL, AND PUBLIC*
Participate in service contributions to the MS program through serving on appropriate committees associated with the program.
Participation in appropriate faculty activities (e.g. faculty assembly, department meetings, and faculty committees), professional organizations, and other endeavors is also expected.
*HOW TO APPLY*
Interested candidates must apply online through the UMB Online Recruitment System and submit an initial application that includes a letter of intent (reference Position Number 05-178-69), curriculum vitae (signed and dated), and a one-page statement of teaching philosophy, statement of medical cannabis experience/objectives, and the names and contact information of at least three references. Shortlisted candidates will be required to submit three letters of recommendation from reviewers external to the University of Maryland, School of Pharmacy. Review of applications will continue until the positions are filled.
Questions regarding this search should be directed to Dr. Andy Coop (acoo[email protected]). Please reference position number 05-178-69.
The University of Maryland, Baltimore is an equal opportunity/affirmative action employer. All qualified applicants will receive consideration for employment without regard of sex, gender identity, sexual orientation, race, color, religion, national origin, disability, protected Veteran status, age, or any other characteristic protected by law or policy.
*REQUIRED SKILLS, KNOWLEDGE AND ABILITIES*
Professional Conduct in all dealings with students, faculty and administration. Communications – Knowledge of communication and dissemination techniques and methods. This includes alternative ways to inform via written, oral, and visual media. Deep Knowledge – Knowledge of the science of medical cannabis, and the ability to translate theory and practice into learning opportunities that advance the discipline. Education – Knowledge of principles and methods for curriculum design principals, evidence- based teaching and instruction for individuals and groups, and knowledge of measurement and assessment. Initiative – Willing and able to take on responsibilities and challenges. Leadership – Willing and able to lead; take charge, and offer opinions and direction. Learning Strategies – Selecting and using instructional methods and procedures appropriate in the discipline family when learning or teaching new things. Monitoring – Monitoring/assessing curricula to make improvements or take corrective action. Stress Tolerance -Ability to accept criticism and deal calmly and effectively with high stress situations.
*MINIMUM QUALIFICATIONS*
Doctoral degree is preferred. Masters of Science degree is required in an area related to the science of medical cannabis, with at least one of medicinal chemistry, pharmacology, pharmacokinetics, and drug delivery and formulation. Prior teaching experience is required. Experience in curriculum development is recommended. Proficient in Microsoft Office Suite programs required. Record of excellence in teaching.
*PREFERRED AREAS OF EXPERTISE AN EXPERIENCE*
Science of medical cannabis, including all of medicinal chemistry, pharmacology, pharmacokinetics, and drug delivery and formulation. Knowledge of assessment of abuse liability of substances.
*WORK ENVIRONMENT AND PHYSICAL DEMANDS*
Sitting, extensive use of keyboard, for prolonged intervals. Technology and Media use varies for instruction and communication. Travel is required for institutional events, and a required symposium once per semester.Job:** **Faculty*Organization:** **School of Pharmacy – Pharmaceutical Sciences*Title:** *Instructor, Master of Science (MS) in Medical Cannabis and Therapeutics*Location:** *null*Requisition ID:** *190001IA*