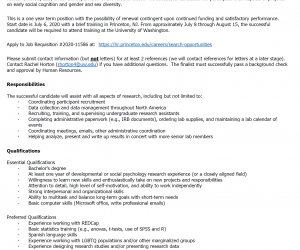 The Psychology department at the University of Denver is a highly collaborative, research-oriented department that values interdisciplinary perspectives (see www.du.edu/psychology for more information). The University of Denver's vision is to be a great private university dedicated to the public good. DU values inclusive excellence, recognizing that its success is dependent on how well it values, engages and includes the rich diversity of constituents (to learn more, please visit u.edu/cme/ie_du.html). Students and faculty in the Psychology Department actively contribute to these goals through scholarship, teaching, and service. DU is situated in the Denver metro area, a vibrant and diverse urban center in the Rocky Mountain region that is home to nearly 2.6 million people. DUs urban location supports faculty collaboration across a number of local universities. DU is comprised of approximately 5000 undergraduates, 6500 graduate students, and more than 600 full-time faculty.
**General Summary**
The Family and Child Neuroscience Lab (Principle Investigator: Pilyoung Kim, Ph.D. u.edu/ahss/psychology/fcnlab/) seeks exceptional candidates for a full-time research assistant position. The research assistant will assist with a grant-funded research project working with pregnant women, new mothers, and infants. We currently conduct a multi-year research project investigating the effects of prenatal poverty and cannabis use on brain development and mother-infant attachment. The research assistant will help schedule home/site visits; conduct home and brain scan visits including clinical interviews, behavioral assessments, and collecting biological samples & neuroimaging (fMRI & fNIRS) data of mothers and newborns; data entry and processing; supervising other researchers and project-relevant administrative tasks. The research experience will be an excellent fit for individuals who plan to apply for medical, nursing, neuroscience, clinical and developmental psychology graduate programs.
This is a full-time position (i.e., up to 40 hours per week). The schedule requires flexible schedules including daytime hours and some evening/weekend availability.
This position has and expected start date of May 2020
**Essential Functions**
Scheduling and managing research visits Conducting home/site visits General lab administrative and management duties
**Knowledge, Skills, and Abilities**
Excellent communication and interpersonal skills Strong organization and administrative skills Attention to details, and conscientiousness Critical thinking skills along with the ability to discuss and solve problems and issues that may arise English language skills Basic math ability Excellent interpersonal skills, and the ability to work with young children
**Required Qualifications**
Bachelor's degree Experience working with women, infants, children or families
**Please note, this position will also require: **
Availability to work a flexible schedule including evenings and weekends to accommodate data collection Willingness to participate in research activities both at the University of Denver and at collaborator sites including Denver Health, UC Denver, CU-Boulder. Have access to a car and be willing to drive to home/site visits with other research staff.
**Preferred Qualifications**
Bachelor's degree in Psychology, Neuroscience, Biology or related Discipline Research experience working with pregnant women and infants Experience with data collection and/or analysis for behavioral tasks, biological samples (saliva, hair, urine, blood), fMRI or fNIRS paradigms Experience with scheduling, data/file management, word processing (MS Word), spreadsheets (Excel), and data entry (SPSS) Experience conducting standardized clinical assessments
**Work Schedule**
40 hours per week; exact schedule to be coordinated with hiring manager.
**Application Deadline**
For best consideration, please submit your application materials by 4:00 p.m. (MST) on **November 15, 2019**
**Special Instructions**
Candidates must apply online through jobs.du.edu to be considered. Only applications submitted online will be accepted.
Hourly Range
The hourly range for the position is $15.00-$18.00
Please Include The Following Documents With Your Application
Resume Cover Letter Names and contact information for three references
The University of Denver is committed to enhancing the diversity of its faculty and staff. We are an Equal Opportunity/Affirmative Action Employer. All qualified applicants will receive consideration for employment regardless of age, race, color, national origin, religion, sex, sexual orientation, gender identity, disability, military/ veteran status or any other status protected by law.
**All offers of employment are based upon satisfactory completion of a criminal history background check.**
Job no:* 492774Work type:* Postdoc / Research / Fellow, Staff Full-TimeLocation:* Denver, COCategories:* ResearchAdvertised:* October 22, 2019Applications close:* Open until filled