Full Time
Anywhere
Applications have closed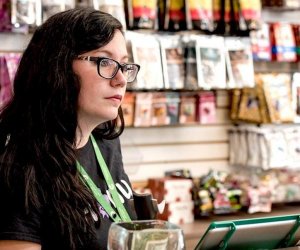 Shift: Front desk and budtenders work 4, ten and a half hour shifts with alternating morning and night shifts as needed. Front desk duties and budtending are interchangeable, and employees should expect some varying combination of both front desk time as well as budtending at the point of sale on any given shift.
Job Summary: A budtender is also trained to work at the front desk. The front desk person is the first face a patient/customer associates with Good Chemistry. This employee must be enthusiastic, friendly, and able to provide basic information regarding the store.
Budtenders directly interact with all customers and advise them compliantly on the products that are for sale. Budtenders are responsible for both managing money and inventory and elevating the customer experience above all else.
Duties And Responsibilities
Provide best patient/customer experience to whoever walks through the doorMust be on time and prepared for all scheduled shiftsBuild rapport with patients/customers to ensure they return to Good ChemistryPatient entry into Biotrack and METRC systems when designating Good Chemistry as primary centerAnswer phones appropriately and maintain proper phone etiquetteIntroduce first-time patients to the facility and category systemAllocate guest badges and oversight on all vendor/visitor sign-in to remain compliantWelcome each person entering the dispensary with a warm, friendly greeting Patient check-in and all ID checking (both at front desk and again before purchase)Educate patients/customers on Good Chemistry's message, strains, products, delivery methods, potency, proper storage of medicine, serving size, and toleranceAbility to make recommendations based on experience with products soldComplete daily checklists and directly maintain appearance of store, daily store opening and closing dutiesMaintain compliance following all Good Chemistry procedures when completing a sale Possess accurate knowledge of product price pointsUtilize product upsell lists appropriatelyResponsible for all money and inventory on the sales floor or in designated POS stationMaintain workstations in an orderly mannerGuide patients to appropriate resources including website and internet menusCommunicate needs to floor captain, ASM, or SM when necessaryRepresent Good Chemistry as an ambassador to the brandResponsibilities as delegated by JAM, ASM or SM
Job Requirements (Education And Experience)
Must have MED badge (or provide letter proving it has been approved and in the mail)High School Diploma required, must be over the age of 21Customer service or sales experience required, cannabis industry experience preferredProven cash handling skills and ability to maintain large amounts inventory Success working closely with a myriad of different personality typesGenuine enthusiasm and love for cannabis and the cannabis industryMust possess basic knowledge of cannabis weights, industry products, strain classifications, genetics, and compliance
Qualifications (Knowledge, Skills And Abilities)
Positive attitude in high volume retail sales settings If budtending, ability to work long hours on feet For positions in Aurora, must have ability to pass additional AMED fingerprinting (no drug misdemeanors in the last 5 years, this is more strict than the Colorado MED)Proficiency with Microsoft Suite and Apple OSMust be to speak with strangers and project an outgoing personality for customersAttention to detailKnowledge of state equivalency rules and customer recreational and medical limits
This job description is intended to explain the general nature and level of work being performed. It is not intended to be construed as an exhaustive list of all responsibilities, duties, and skills required of personnel so classified.
Good Chemistry is an equal opportunity employer.
Applicants must currently be qualified to work in the United States.
Good Chemistry Nurseries is one of the country's leading providers of cannabis products and related services. Good Chemistry's team of experienced professionals implements the company's vision for a groundbreaking retail cannabis experience that is both inviting and educational. Staff use their expertise and knowledge to create a professional, compliant and user-friendly experience for customers of all interests. Everything we do at Good Chemistry is guided by four core principles: science, access, dignity and compassion. We think that people should have access to safe, reliable and high-quality cannabis. We believe that cannabis has significant therapeutic benefits, and we work to support and expand its study.