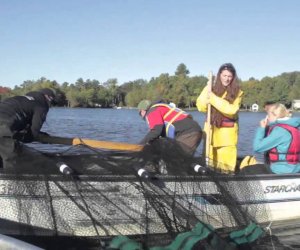 Department of Fish & Wildlife
Job Description And Duties
Under the supervision of the Nongame Wildlife Environmental Program Manager in the Wildlife Branch, the incumbent will provide office and field support for a monitoring program to assess the effects of land use change on fish and wildlife resources. The incumbent will assist in data entry, purchasing and maintaining equipment, and the implementation of routine monitoring studies, including efforts by other regional and headquarters staff in support of the statewide Cannabis Program.
Field equipment operation/maintenance: With direction from the Nongame Wildlife Program Senior Environmental Scientist for the Cannabis Program, maintain, calibrate, repair, and operate scientific instrumentation, including the facilitating any necessary repairs and replacements with appropriate vendors; keep accurate records of repairs and purchases, and work with administrative staff to assure Department protocols are followed; operate and maintain project vehicles and field equipment, including preparation and cleaning of field equipment pre- and post-deployment and tracking all inventory of supplies and equipment; identify equipment and other project needs and communicate those needs with project leads.
Field data collection: May act as lead of small crew engaged in fish and wildlife improvement work or assist research personnel on field surveys in the collection of data, following established protocols, related to conducting wildlife census and habitat condition surveys related to cannabis cultivation or other uses. Keep records and prepare routine factual reports using basic software applications with information collected by conducting wildlife census and habitat condition surveys. Carry out field data collection in terrestrial habitats throughout the state; operate 4WD vehicles; navigate in remote areas using a GPS; help implement a variety of field sampling techniques aimed at assessing wildlife populations and wildlife habitat.
You will find additional information about the job in the .
Working Conditions
This is primarily an office position. Most work will occur in the Wildlife Branch office in Sacramento and secondarily in field settings throughout the state. There is no state housing provided for this position. Ability to direct and conduct biological resource work in the field; travel throughout the state; and work at odd or irregular hours. Ability to develop and make effective oral presentations before the public. Ability to use a personal computer and keyboard at least several hours a day, sitting most of the time, which may involve walking or standing for brief periods to access files, references and other program materials. Attend meetings. In addition to working with Sacramento-based staff, interact with Regional staff and members of the public via e-mail, telephone and onsite. Possession of CA driver's license. Ability to drive for up to 8 hours. Ability to work outdoors for up to week-long trips in variable weather conditions, operate 4WD vehicles, wade through streams, and walk over uneven outdoor terrain carrying a 30 lb. backpack for up to 6 hours. Wear a uniform, if required.
Desirable Qualifications
In addition to evaluating each candidate's relative ability, as demonstrated by quality and breadth of experience, the following factors will provide the basis for competitively evaluating each candidate:
Skills
College coursework and/or experience in mammalogy, ornithology, herpetology, community ecology, land use changes, and natural resource management Career interest in wildlife biology or ecology Knowledge of California wildlife species, including mammals, birds, amphibians, and reptiles; terrestrial sampling techniques; environmental factors affecting wildlife populations in California. Safely and independently collect environmental data in field settings throughout California Follow oral and written directions Basic knowledge of the Microsoft Office suite, particularly Word and Excel Collect accurate field data and make and record accurate field observations Maintain and repair specialized equipment in the field or shop
Special Personal Characteristics
Ability to lift up to 40 pounds repeatedly throughout the day and hike long distances Detail oriented Good planning and organizational skills Personal initiative Ability to multi-task, organize work and reason logically
Statement Of Qualifications
For this position, applicant must include a Statement of Qualifications (SOQ) not to exceed two pages in length using Arial 12-font and normal margins. The SOQ is a narrative discussion in response to the two questions below.
Questions
Describe how your education, training, experience, and skills relate to this position and the desirable qualifications. Describe your personal qualities that make you uniquely suited to working with a team to help create, develop, and implement a new terrestrial wildlife monitoring framework.
A resume will not be accepted in lieu of an SOQ and applications received without an SOQ will not be considered.
Required Application Package Documents
Required
Applicants who do not submit the required items timely may not be considered for this job
The following items are required to be submitted with your application.
Current version of the State Examination/Employment Application STD Form 678 (when not applying electronically), or the Electronic State Employment Application through your Applicant Account at All Experience and Education relating to the Minimum Qualifications listed on the Classification Specification should be included to demonstrate how you meet the Minimum Qualifications for the position. Resume is required and must be included. Statement of Qualifications – A Statement of Qualifications (SOQ) is required. Please see below for SOQ instructions.