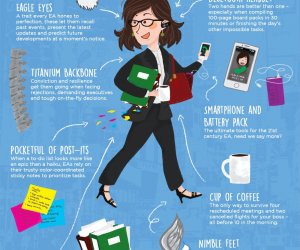 Responsibilities to include, but not limited to:Booking travel and appointments; scheduling meetings. Calendar management.Researching various and wide-ranging topics. Writing and editing of documents, scripts, emails, and memos.Support the management and execution of PrestoDoctor's events, including industry events, conferences, trade shows, and client eventsWorking closely with company employees and executives.Hiring and managing household staff and vendors.Performing office duties such as ordering supplies.Lifestyle management such as gift buying and party planning, sometimes for large events.Research and evaluate new industry event sponsorship opportunitiesProject management.Oversight of insurance policies.Attending functions and meetings and reporting back on key learnings.This role will support the COO.
Requirements:Proven experience as an executive assistant, personal assistant, or chief of staff.In-depth understanding of the entire MS Office suite and G-suite, all Apple products, all major music streaming services, and the latest in office and household technology.Must be able to meet deadlines in a fast-paced, quickly changing environment.Professional level verbal and written communication skills.
Potential Candidate Qualifications:Strong written and verbal communicatorEgo at the door – be flexible! The best candidate will be comfortable performing a variety of day to day responsibilitiesSelf-starter and pro organizer- strong independent work prioritization is needed – the position will likely require most of your responsibilities being scheduled within your own time frame, so experience prioritizing is essential!A curious mind – questions are encouraged! The more the better.
Other InformationCompensation: $20/hrEmployment Type: Contract with 20-30 hours per week to start and scale up from there.Location: New York, NY (Midtown – Near Penn Station)
About PrestoDoctor: PrestoDoctor is a technology company that connects patients to doctors for medical cannabis evaluations 100% online on our telemedicine platform.