Full Time
Anywhere
Applications have closed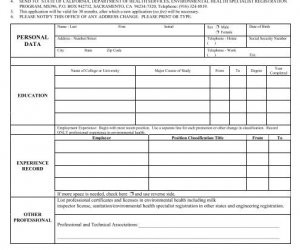 Position Description
An Equal Opportunity Employer and a Drug-Free Workplace
Invites your interest for the position of
Environmental Health Specialist I – Trainee
$3,979-$5,435 Monthly
Final Filing Date: Continuous Exam # 19/30J11/03RU
Summary Of Position
The County of Monterey's Environmental Health Bureau is seeking individuals to join our dynamic team of professionals to conduct inspections, outreach, investigations, and surveys in support of Federal, State and local environmental health laws and regulations in an assigned district or specialty area.
The Established Eligible List will be used to fill current vacancies in our Consumer Health Protection Services, Environmental Health Review Services, Hazardous Materials Management Services, and Solid Waste Management Services and may also be used to fill future vacancies in our other services: Drinking Water Protection Services, Cannabis Management Services, as the need arises.
For information regarding responsibility for each of the sections listed above, please see the Additional Information section in this flyer.
A list of eligible candidates resulting from this recruitment may be used to fill current and future full-time or temporary vacancies as they arise.
Examples Of Duties MINIMUM QUALIFICATIONS
A combination of experience, education, and/or training which substantially demonstrates the knowledge, skills and abilities necessary to:
Understand, interpret and apply laws and regulations. Learn to conduct investigations. Communicate visual observations and ideas by writing concise, complete and technically accurate reports, records, correspondence, surveys and studies. Speak effectively to individuals and groups from diverse social and cultural backgrounds. Establish and maintain effective working relationships with business and community groups, department staff, other departments and the public. Perform independently all skills required of an Environmental Health Specialist I in assigned area. Some knowledge of chemistry, biology, microbiology and environmental science.
Desirable Qualifications
Collect, analyze and interpret data with appropriate recommendations based on findings. React calmly and effectively to diffuse any potentially stressful or difficult situations. Some knowledge of methods and procedures used to conduct research, inspections or investigations. Ability to communicate in English and Spanish required for some positions. Bilingual (English/Spanish) candidates must complete and receive a passing score on the bilingual oral examination prior to receiving bilingual pay.
Characteristics Of The Ideal Candidate
Critical Thinker Team-Oriented Adaptable Systems Thinker Organized Effective Communicator Responsible Goal-Oriented
Required Conditions Of Employment
Pursuant to Section 106660 California Health and Safety Code, at the time of application, all applicants must present a current evaluation letter from the State of California, Department of Public Health which states that the applicant is eligible to begin training in a n approved environmental health program. Pursuant to Section 106615(d) California Health and Safety Code, the appointee must possess the education requirement necessary to qualify to State of California registration as an Environmental Health Specialist Trainee. The Environmental Health Specialist I must complete all required education, experience and training for and obtain a valid Certificate of Registration as an Environmental Health Specialist issued by the State of California, Department of Health Services, no later than 36 months from date of hire. Possession of a valid California Class C Driver's License. Tolerate rodents and insects; such as, rats, mice, and cockroaches; tolerate unsanitary or hazardous conditions; such as, septic failures, accumulated garbage or animal waste. Work with potentially hostile individuals in volatile situations. Enter and perform work in establishments which may expose the incumbent to what may be considered offensive or repugnant sights, sounds, or smells. Work with or around equipment that, if misused, has the potential to present a radiological hazard. Work some nights, weekends and/or holidays, and respond to emergency incidents or disasters outside normal work hours, as needed. An appointee assigned to the Hazardous Materials Management Services may be required to respond to incidents involving spills of unknown chemically hazardous materials or potentially hazardous unidentified substances; may be required to maintain contact with the worksite or co-workers outside of normal work hours by carrying a communications device; and will be required to respond, as a member of the Emergency Response Team, to incidents that occur outside normal work hours; must pass fitness testing for the use of respirators. The Health Department will conduct a thorough background and reference check process which include a Department of Justice fingerprint check.
Examples of Experience/Education/Training An example of a way that requirements might be acquired is:
A Bachelor's degree from an accredited college or university with major work in Biology, Chemistry, Biochemistry, Environmental Health, Toxicology, or closely related field and possession of a valid Environmental Health Specialist Trainee letter issued by the California Department of Health Services.
For complete information see the class specification/job description on our website at:
http://www.co.monterey.ca.us/personnel/documents/specifications/30J11.pdf
Additional Information APPLICATION & SELECTION PROCEDURES
To apply, submit the following to the Monterey County Health Department, Human Resources Division, 1270 Natividad Road, Salinas, CA 93906:
Final Filing Date: Continuous
Monterey County Employment Application Response to the Supplemental Questions Current evaluation letter from the State of California, Department of Public Health Please be aware if the application form, responses to supplemental questions, and copies of Certificates are not submitted timely with other required application materials, the application will be removed from further consideration and not be considered further.
Or apply on-line at http://agency.governmentjobs.com/montereycounty
Application materials will be competitively evaluated. Those applicants that are determined to be the most appropriately qualified will be invited to participate further in the selection process. To assess applicants' possession of required qualifications, the process may include an oral examination, pre-exam exercises, performance exam, and/or written examination. For more information, or to receive application materials, please contact the Health Department, Human Resources Division at 831-755-4618.
NOTE: If you believe you possess a disability that would require test accommodation, please call the Health Department Human Resources Office at (831) 755-4618. Employment is contingent upon acceptable documentation verifying identity and authorization for employment in the U. S. If you are hired into this classification in a temporary position, your salary will be hourly and you will not be eligible for the benefits listed above.
BENEFITS: The County offers an excellent benefits package (H Bargaining Unit)
The County of Monterey offers a premium benefit package. A summary of benefits for this position can be viewed on the County website. This information is intended to provide you with a general summary of benefits available and is not legally binding. The benefits listed in the Monterey County Personnel Policies & Practices Resolution or "H" MOU prevails over this listing.
See http://www.co.monterey.ca.us/home/showdocument?id=62246 for more information (H bargaining Unit Benefit Summary Sheet.)
Additional Information
Description of each section in the Environmental Health Bureau
Drinking Water Protection Services: Responsible for small public, state small, and local small water systems inspection & compliance monitoring programs; drinking water source assessment; water well construction; repair & destruction inspection; cross connection control; collaborative aquifer protection; desalination treatment facility permitting & inspection; Castroville Seawater Intrusion Project monitoring; and water reuse programs. Hazardous Materials Services: Responsible for emergency response; pesticide exposure; site mitigation programs; and Certified Unified Program Agency (CUPA) programs: hazardous materials management; hazardous waste generator and on-site treatment/tiered permitting; accidental release prevention; underground storage tanks; and aboveground petroleum storage tanks.Solid Waste Management Services: Responsible for solid waste facility inspection & permitting; illegal dumping enforcement; liquid waste hauler inspection; solid waste vehicle inspection; medical waste generator inspection; body art facility & operator inspection; waste tire inspection; and vegetable cull feeding inspection programs.Consumer Health Protection Services: Responsible for retail food facility inspection; food borne illness investigation; food complaint investigation; pool & spa inspection; beach water & freshwater bathing public notification; vector control; childhood lead poisoning prevention; rental housing complaint investigation; employee housing inspection; institutional & detention facility housing inspection; general environmental health & sanitation; smoking pollution control; storm water pollution control; and agricultural field toilet inspection programs.Environmental Health Review (Land Use) Services: Review of subdivisions & lot-line adjustments; planning projects; administrative, zoning & coastal permits; building permits; regional & long-term planning; and general plan update. Responsible for nuisance noise control; wastewater treatment facility & nitrate monitoring; standard and alternative onsite wastewater treatment systems; grey water disposal; and winery wastewater disposal programs.Cannabis Management Services: Conducts environmental health inspections, permitting, complaint response, outreach and education for cannabis businesses. Environmental health programs include but are not limited to hazardous materials, solid waste management, water quality, onsite waste water systems, handling of food ingredients, response to non-permitted cannabis activities, and general sanitation.
Closing Date/Time: Continuous