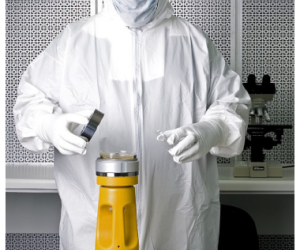 Sagent Pharmaceuticals – Raleigh, North CarolinaEnvironmental Monitoring TechnicianPosition reports to the Area Supervisor for the functional area to which they are assigned and has no direct reports. This individual holding the position of EM Technician I shall be responsible for performing routine environmental monitoring to assess the viable and nonviable particulate levels within classified manufacturing rooms and support rooms.    
Responsibilities include:onduct viable and nonviable environmental monitoring throughout facility, including aseptic processing areas and classified manufacturing areas (Compounding, Component Preparation, Vial Wash, and Dispensary)Collect facility waters and submit for testing and accurately record results of above testing and promptly report any discrepancies or out of limit conditions to supervisorPerform Aseptic Gowning Training and certification samplingRequisition of materials, maintaining inventory and receive and store prepared mediaPrepare environmental monitoring plates and EM test reports for aseptic processing areaPerform disinfection of incubator rooms weeklyFollow safety requirements and maintains good housekeeping of laboratory areaIncubate and inspect media fill units and incubate and examine samples for microbial growthEnumerate bacteria and report excursionsTemperature charts for incubators and refrigerators in the Microbiology LaboratoryEnsure processes and products are in compliance with all local, state, and federal rules and regulations. Oversee that processes are in cGMP compliance and establish systems that identifies opportunities for improvement and makes constructive suggestions for change to improve process effectiveness to heighten quality. Develop knowledge of and understand regulatory requirements such as 21CFR Parts 210 and 211, cGMP's, FDA, OSHAand other regulatory agencies.Assumes additional duties and responsibilities as assigned
Candidate Requirements:Bachelor's Degree in Chemistry, Microbiology, Biology or other related Science or equivalent experience; 1-3 years of experience in a similar position is preferred.Physical Requirements include – standing and walking up to 8 hours (4 hours at a time for aseptic processing area), lifting or moving up to 35 pounds and reaching with hands and arms up to 6 hours.  Must be able to climb or balance, stoop, kneel, crouch, or crawl up to 1 hour.Gowning certification will be requiredMust be flexible for working across shifts (1st, 2nd, 3rd shifts and/or weekends) as needed 
Personnel engaged in the manufacture, processing, packing, or holding of a drug product shall wear clean clothing appropriate for the duties they perform. Protective apparel, such as head, face, hand, and arm coverings, shall be worn as necessary to protect drug products from contamination.
Any person shown at any time (either by medical examination or supervisory observation) to have an apparent illness or open lesions that may adversely affect the safety or quality of drug products shall be excluded from direct contact with components, drug product containers, closures, in-process materials, and drug products until the condition is corrected or determined by competent medical personnel not to jeopardize the safety or quality of drug products. All personnel shall be instructed to report to supervisory personnel any health conditions that may have an adverse effect on drug products.  Sagent Pharmaceuticals is an EEO/AA employer and does not discriminate on the basis of race, color, religion, sex, age, creed, national origin, veteran status, physical or mental disability and sexual orientation.