Full Time
Anywhere
Applications have closed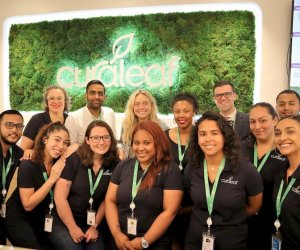 Curaleaf Holdings, Inc. (CSE: CURA) (OTCQX: CURLF) ("Curaleaf") is a leading vertically integrated multi-state cannabis operator with a dominant presence on both the East and West coasts of the United States, the largest cannabis market in the world. As a high-growth cannabis company known for quality, expertise, and reliability, the company and its brands, Curaleaf and Select, provide industry-leading service, product selection, and accessibility across the medical and adult-use markets. Strategically positioned in highly populated, limited-license states, the company currently operates in 14 states with 53 dispensaries, 15 cultivation sites, and 24 processing sites. Following the Select closing, Curaleaf will employ over 2,200 people across the United States.
The Dispensary Manager ensures that the dispensary department operations are in compliance with the DOH and internally approved Standard Operating Procedures (SOP's). The Dispensary Manager collaborates with the Regional VP of Retail and leadership team to develop, document and implement practices, policies, and strategies that support a performance and results-driven culture.
Essential Duties And Responsibilities
Maintains highest level of presentation, customer service, and compassion to all patients Responsible for managing the dispensary department in a manner that supports the organizations mission Provide departmental leadership to assure that all departmental operations such as admissions, patient consulting, product dispensing, cash management, inventory management, inventory auditing, outreach, marketing and ordering are functioning with integrity and in the most cost efficient, compassionate and compliant manner Performing monthly, quarterly and annual sales reviews and provide suggestions for improvement to the Executive Director Responsible for ensuring vigilance, adherence and departmental compliance with the Medical Use of Marijuana Program and HIPPA regulations including but not limited to confidentiality, training, patient record keeping, submissions of reports, preparation of policies and procedures, acting as a departmental contact person for regulators and law enforcement personnel Reviewing, maintaining and updating all departmental SOP's and assuring that any changes are communicated to employees and the most recent SOP versions are available 24/7 for planned and unplanned audits by regulators and organization management Overseeing and ensuring cash management procedures are being followed including, transacting, opening, closing, depositing, reporting, maintaining and reconciling cash with all departmental SOP's
Compliance
Practice policies and procedures related to the protection of personal and sensitive data must be adhered to at all times and only divulged to authorize persons Assists the Regional Manager in maintaining all regulatory licenses and renewals Responsible for ensuring all employees state registration identification cards are renewed each year First point of departmental contact with State and Local regulatory representatives Responsible for leading and complying with planned and unplanned quarterly audits / inspections
Inventory Control and Management
Creating new product and price points for cannabis products and paraphernalia products Ensuring proper management of pre-packaged inventory and inventory movement between the vault and dispensing stations Overseeing and ensuring nightly audits & 30-day audits are being conducted in conjunction with all departments Responsible for organizing regular meetings with suppliers to optimize discounts and achieve the best pricing in the market
Marketing and Outreach
Organize and lead guest tours and maintaining relationships with physicians, patients, politicians and professionals in the community that we serve Responsible for ongoing education and outreach program relating to medical cannabis for the benefit of member patients Responsible for maintaining all social media content in a professional way that portrays a best in class company image Coordinate on the success of promotions, coupon and recommend future promotions and sales Measure customer satisfaction through surveys and interviews Responsible for the preparation of content for all educational materials and presentations
Human Resources
Partners with the Human Resources Director in reviewing salaries, writing appraisals, and disciplinary actions when required Records Retention Responsible for resolving day to day employee benefits administration issue Planning & coordination of staff meetings and company sponsored events
Education and/or Experience
Bachelor's Degree in business, management, or related areas Experience working in a heavily regulated industry; 5-7 years in progressively responsible retail experience, including at least three years in a management position Proficient computing skills Innate desire to achieve success and a work ethic to match Ability to critically think and problem solve without direction High level of integrity
Physical Requirement
Work may require prolonged sitting/standing, some bending, stooping and stretching Requires eye-hand coordination and manual dexterity sufficient to operate a cash register, photocopier, telephone, calculator and other office equipment. Requires normal range of hearing. Requires close vision with the ability to see color and adjust focus Occasionally lifting up to 30 pounds
Curaleaf is an Equal Employment Opportunity Employer