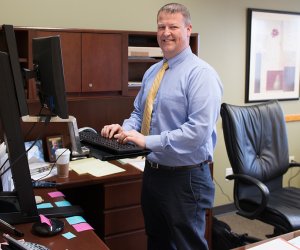 Position Summary
The Director of Facilities is responsible for overseeing all of the related obligations for Surterra Holdings, Inc., a licensed medical marijuana operator to implement and maintain control over the individual facilities managers, while interfacing with the Construction team on the implementation of smaller ongoing capital projects in each facility. Specific responsibilities include but are not limited to project management, managing a team of facility managers, installation assistance, operations coordination, and working with systems implementation teams from time to time.
This Director will oversee managers for all of Parallel's operations now and in the future. Parallel currently maintains 40 dispensary locations, 5 cultivation operations, and several distribution centers across 4 states. It is expected to increase that number dramatically in the next 24 months with 17 more retail stores in two states, and 5 additional cultivation/production facilities coming on line and expanding to 3 additional states.
An excellent Manager must be well-versed in all methodologies and procedures for the maintenance and operation of facilities and equipment and be able to communicate progress and obstacles in clear business terms. This project manager will also be able to coordinate between a diverse team of professionals within the organization to achieve the best results. The ideal candidate will have an analytical mind and great organizational skills.
Core Job Duties And Responsibilities
Sets, manages, and communicates project timelines, duties, and overall program with Facilities managers. Directly manages workload and flows of the on-site facilities groups and makes decisions on manpower requirements. Interface with Operations divisions to support their needs in preventative maintenance, spare management, and overall equipment and facility support. Special Project — Implement an enterprise level spare parts and service ticket system within 3 months of hire. Interface with the Construction Division of the Capital Projects group to identify needs, help oversee projects under construction, and provide direct management of smaller projects within the facilities. Anticipates, reacts to issues Facilitates solutions and escalation required. Partners with all business partners to ensure a timely resolution. Work with the Procurement division to solicit qualifications for vendors for on-site services as well as equipment and material provision. Provide feedback on the quality of services being rendered. Solicits, negotiates, reviews and qualifies vendor bids for assigned projects. Manage relationships with vendors and internal departments, and resolve general issues with vendors and contractors. Audits vendors to ensure proper fiscal procedures are being maintained. Reviews and interpret Lease terms on rented equipment.
Job Skills And Requirements
Proven experience as a facilities manager In-depth understanding of systems and equipment operation, maintenance and repair for "boots on the ground" oversight of maintenance activities. Familiarity with quality and health and safety standards Good knowledge of Microsoft Office Suite Familiarity with facility management software Outstanding communication and negotiation skills Excellent organizational and time-management skills A team player with leadership abilities BSc/BA in engineering, building science or relevant field Technical background required. Travel up to 30-40% required Experience in agriculture and complex HVAC and electrical systems is a must.
Physical Requirements
Must be able to remain in a stationary position 50% of the time. this person needs to be able to navigate a job site daily. Constantly operates a computer and other office productivity machinery. constantly safely navigates around ongoing construction activities The person in this position frequently communicates with other employees, vendors, and contractors. Must be able to exchange accurate information in these situations.
6 Core Values of a Parallel Employee
Integrity – We operate in a regulated and unchartered industry. Act and make decisions that stand up to scrutiny and reflect our position as a sophisticated, credible and respected leader. Be honest, trustworthy, dependable, and honorable. Demonstrate sound moral and ethical ways of interacting. Collaboration – We are a collection of the best talent at all levels. Learn and grow from this diversity: welcome healthy debate and proactively seek other perspectives and points of view to find the best solution while not resting on consensus. Proactively ensure the right people have the right information at the right time. Work as a team vs. an individual performer. Agility – We are growing incredibly fast in a new industry. Be open to change, be ready to pivot on the moment's notice, and act with a sense of urgency to take advantage of opportunities. Then be ready to do it again. Quickly -and calmly -respond and adapt to the unexpected. Modify and streamline processes, find more efficient ways of doing your job. Work efficiently across markets, time zones, and functions. Intentionality – Intentionality requires action -it makes your intentions happen. Good thoughts are meaningless without action. It is initiative directed by the purpose to move our business forward. Intentionality is doing things important to you, even when not easy. Transformational change happens with intentionally. Alignment – Together, we must understand and believe in our vision, mission, business and team goals and priorities. When we make a decision, even when we don't have consensus we all align behind that decision and execute. We don't revisit decisions unless we have material new data or circumstances. Accountability – Make the best proactive and reactive decisions given the available information and the wisest counsel. Own your decisions, actions and outcomes, and promptly correct mistakes. Be reliable, honor commitments and do not finger point, off-load responsibilities, or criticize co-workers. Look after co-workers and team's success.