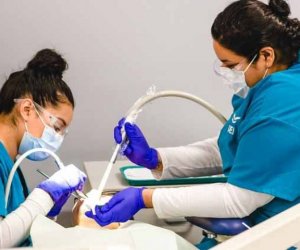 Lake Erie College of Osteopathic Medicine
Dental Assistant
Overview
Date Posted:
5/11/2020
Location:
LECOM Bradenton Dental School
Address
4800 Lakewood Ranch Boulevard
City
Bradenton
State
FL
Country
United States of America
Category
Administrative and Support
Employment Status
Full-time
Description
JOB SUMMARY: The Dental Assistant is responsible for providing technical assistance to the dentists and dental hygienists. This includes a variety of duties from preparing rooms for patient visit to sterilizing instruments after the appointment. Additional responsibilities include providing for patient education regarding oral health and documenting procedures in the electronic health record. This position requires OSHA training and is subject to exposure to blood and other bodily fluids, as well as, enforcing HIPAA regulations specifically when accessing Protected Health Information (PHI).
Characteristic Job Tasks And Responsibilities
Check patients in for dental visits: verify personal information for billing purposes, perform needed radiographs, obtain vital signs (i.e. electric and manual blood pressure), set up instruments for procedures/examinations, assure all forms are completed for procedures, review health history and transfers this information to the clinical note completely and accurately.Answer phones, schedule patients, treatment plan explanation and coordination between other specialties and collect monies on an as needed basis;Assist dentists and/or dental hygienists in daily clinical and operational activities including but not limited to: use four-handed practices at chair side, provide proper instruments during procedure to the dentist, make chart entries under the direction of the dentist or dental hygienist, record all finding and treatment plans completely and accurately in the patients chart and actively participate in keeping provider on schedule;Assist in complex case management while working with postgraduate residents and overall participation in resident education and co-management of patient continuity;Prepare patients for procedures and ensure that all the appropriate instructions and equipment are arranged and ready; Maintain a clean oral working area prior to, during and post exams/procedures; Promote an atmosphere of good dental and general health by demonstrating good personal oral hygiene; Educate patients on techniques of flossing, brushing, overall oral health, and the role of the dental care team;Clean and sterilize instruments appropriately;Take and manipulate diagnostic radiographs on an as needed basis;Mount radiographs in EHR for use in diagnosis;Lab duties include, but are not limited to, pour and trim cast, mount models on articulator and fabricating bleaching and impression trays and construction of Provisionals;Removed biohazard trash as needed;Answer patient inquiries related to pain and/or medications;Perform all duties in accordance with OSHA regulations;Distribute and collect Patient Satisfaction Surveys in accordance with Institutional policy;Attend meetings as required (Clinic and staff, etc.);Be attentive to patient and provider needs;Reporting End of Day (EOD) and balancing reports for the finance department;Protect money, checks, credit cards and collect insurance information;Coordinate Dental materials Inventory with the Dispensary on an as needed basis;Contribute directly to the Mission of LECOM embodying the essence of Osteopathic Principles and Practices by assisting with Institutional fundraising and participating in the LECOM Scholarship Auction;Participate in scholarly activity so to enrich and broaden the student learning experience;Commit to being a representative of LECOM by being actively involved in the community, including, but not limited to, serving on Boards, participating in community fundraisers and overall outreach;Perform other duties as assigned / needed to maintain practice efficiency and effectiveness.
EEO/AA/M/F/Vets/Disabled
Minimum Requirements
MINIMUM QUALIFICATIONS: Education and experience equivalent to: a High School diploma with a Florida expanded functions (to include monitoring nitrous oxide conscious sedation) and dental radiography certificate issued by a CODA Accredited or Florida Board of Dentistry approved dental assisting program and DANB CDA current certification required. In addition, a successful candidate must maintain a CPR certification, HEP-B series completed, TB test and DPT within the last ten years.