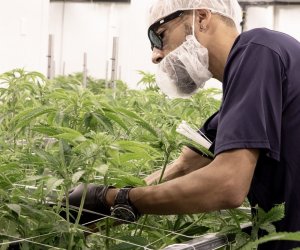 Cultivation Technician
Reports To: Cultivation Manager or Cultivation Lead
Position Type: Seasonal – March through December
Location: Greater Ettersburg Area
Company Overview: Headwaters is a grouping of small-scale Cannabis farms in Southern Humboldt that focuses on environmental stewardship and producing boutique quality Cannabis. Guided by the tenets of sustainable agriculture and driven by a commitment to transparency, when you see a Headwater product, you can trust that it does right by you, the environment, and the community.
Run by a group of cannabis innovators with a unique blend of business and agricultural knowledge, Headwaters is proud to be leading the Cannabis industry towards a sustainable future. At Headwaters, every decision we make—from production strategy to design—is guided by our three core values: Environmental Awareness, Community Partnership, and Personal Well-Being.
Job Overview: We're looking for an all-around Cultivation Assistant who likes to work in an agricultural environment, has the willingness and enthusiasm to be hands-on, ability to prioritize and allocate projects. Implementation of Integrated Pest Management (IPM), fertilizer program, and order of operations.
Key Responsibilities
General cultivation responsibilitiesImplement integrated pest management (IPM) practicesExecute protocols and nutrient regimen including spray schedule and nutrient feeding scheduleCommunication with Cultivation Managers regarding planting, flowering, and harvesting scheduleComply with all safety protocolsComply with State Track and Trace for propagation and flowering process.
The Candidate Must Have
Excellent attention to detailStellar communication skills, both written and oralAbility to work effectively as a team player, proactive and desire to improveConsistently exercise sound judgment and discretionPrior experience working for a Cannabis farm is a plusAbility to work well in a fast-paced, deadline-oriented environmentAbility to manage several complex projects simultaneouslyHighly effective organization and follow up habitsNo recreational cannabis-use is tolerated during work hoursMust be 21 years of age or older
Why join the team?
Ground floor opportunity to shape the strategic direction of a fast-growing agricultural enterprise!Collaborative culture with a supportive team!A great place to work with unlimited growth opportunities!
Headwaters provides equal employment opportunities for team members and candidates regardless of race, color, religion, national origin, gender, sexual orientation, age, marital status, military status or disability in accordance with local, state and federal guidelines. We hire and promote individuals based on their qualifications for the position to be filled. We are committed to creating a diverse and inclusive workforce.
Powered by JazzHR