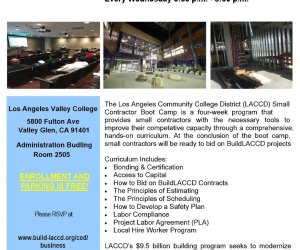 Los Angeles County Department of Human Resources
Position/Program Information
Exam Number
J4227C
Rebulletin Information
THIS ANNOUNCEMENT IS A REBULLETIN TO REOPEN THE FILING PERIOD, UPDATE THE SALARY INFORMATION, SELECTION REQUIREMENTS, SUPPLEMENTAL QUESTIONNAIRE, ADDITIONAL INFORMATION SECTION AND SPECIAL INFORMATION SECTION.
First Day Of Filing
SEPTEMBER 24, 2019 at 8:00 a.m. (PT)
THE FILING PERIOD MAY BE SUSPENDED AT ANY TIME WITHOUT PRIOR NOTICE. THIS EXAMINATION MAY REOPEN AS THE NEEDS OF THE SERVICE REQUIRE.
Type Of Recruitment
OPEN COMPETITIVE JOB OPPORTUNITY
DEFINITION
Monitors contract services provided by security services contractors at County sites.
CLASSIFICATION STANDARDS
Positions allocable to this class report to County Services Bureau and are responsible for making daily inspections of County sites to ensure contractors are providing services in accordance with contract terms. Incumbents must have the ability to communicate effectively verbally and in writing, to prepare inspection reports, and document deficiencies. Essential Job Functions
Conducts on-site inspections of and monitors, audits, and evaluates security services provided by the contractors.
Ensures that contractors' staff are properly supervised; in possession of mandated certifications, and is performing required duties.
Researches potential problem areas and recommends resolutions.
Ensures that required paperwork is completed correctly and in a timely manner.
Ensures that contractors are responsive in providing the appropriate kind and level of service specified in the contract agreement.
Prepares and submits reports on contractor performance which include detailed descriptions of instances in which contract terms are violated and corrective action taken.
Contacts contractor representatives to correct violations of contract terms.
Evaluates contractor's response to identified contract discrepancies.
Performs other work-related duties, as assigned.
Drives to various facilities throughout Los Angeles County to perform job-related essential functions.
Requirements
SELECTION REQUIREMENTS
Option i
Two years' experience providing security services to governmental facilities.
Option Ii
Two years' monitoring, auditing and evaluating services provided by contractors to governmental agencies.
LICENSE
A valid California Class C Driver License* is required to perform job-related essential functions. Candidates offered these positions would be required to show proof of a driver license prior to appointment.
Out-of-state applicants must have a valid license from the state in which they reside at the time of filing. Out-of-state applicants will be required to obtain a California Class C Driver License prior to appointment.
License Information: Successful applicants for this position will be required to obtain a copy of his/her driving record from the California State Department of Motor Vehicles before being appointed. A copy of your record must be presented at the time of your appointment. License must not be suspended, restricted, or revoked. AN APPLICANT WHOSE DRIVING RECORD SHOWS THREE (3) OR MORE VIOLATIONS WITHIN THE LAST YEAR WILL NOT BE APPOINTED.
PHYSICAL CLASS
Physical Class II – Light: Light physical effort which may include occasional light lifting to a 10 pound limit, and some bending, stooping or squatting. Considerable walking may be involved.
SPECIAL REQUIREMENT INFORMATION
SUPPLEMENTAL QUESTIONNAIRE
As part of this application process, applicants will be required to complete a supplemental questionnaire. The questionnaire contains a pre-investigative questionnaire which will be utilized as part of the background investigation process to ensure applicants meet the standards set forth by the Los Angeles County Sheriff's Department. Applicants who fail the pre-investigative questionnaire will be disqualified and will have to wait twelve (12) months from the date of the disqualification in order to reapply.
Additional Information
EXAMINATION CONTENT
This Examination Will Consist Of Two (2) Parts
PART I – A written test covering checking for errors, arithmetic, written expression, reading comprehension, and data interpretation weighted 50%.
Study guides and other test preparation resources are available to help candidates prepare for written employment tests. An interactive, Online Test Preparation System for taking practice tests may be accessed at the Department of Human Resources website at http://hr.lacounty.gov/. Please click on "Find a Job" and then "Job Search Toolkit." Test Preparation Information is located under the "Employment Test Assistance" section. While the guides will help in preparing for the test, we advise you to review all related materials that you deem necessary.
THE WRITTEN TEST IS NOT REVIEWABLE BY CANDIDATES PER CIVIL SERVICE RULE 7.19.
ONLY THOSE CANDIDATES WHO PASS THE WRITTEN TEST WITH A SCORE OF 70% OR HIGHER WILL PROCEED TO PART II.
PART II – An oral interview covering training, experience, and general abilities to perform the duties of the position weighted 50%. As part of the interview, candidates will also be required to complete a brief writing exercise. Candidates who do not submit a writing sample will be disqualified from this examination.
ONLY APPLICANTS THAT ACHIEVE A PASSING SCORE OF 70% OR HIGHER ON THE COMBINED SCORES FOR PARTS I AND II WILL BE PLACED ON THE ELIGIBLE REGISTER.
Invitation letters will be sent electronically to the email address provided on the application. It is important that applicants provide a valid email address. Please add [email protected] to your email address book and to the list of approved senders to prevent email notifications from being filtered as spam/junk/ clutter mail.
Notice of Non-Acceptance and Final Result letter will be mailed via USPS. Test scores cannot be given over the phone.
ELIGIBILITY INFORMATION
The names of candidates receiving a passing grade in the examination will be placed on the eligible register in the order of their score group for a period of twelve (12) months following the date of promulgation. Applications will be processed on an "as-received" basis and those receiving a passing score will be promulgated to the eligible register accordingly.
No person may compete in this examination more than once every twelve (12) months.
SPECIAL INFORMATION
SUCCESSFUL CANDIDATES MUST COMPLETE A THOROUGH BACKGROUND INVESTIGATION, INCLUDING FINGERPRINT SEARCH. Examples of disqualifying factors include: Any felony convictions; job related misdemeanor convictions; certain serious traffic convictions or patterns of traffic violations (3 moving violations in one year; failure to appear; at fault accidents suspended license; driving under the influence); poor credit history; poor employment history; substance abuse; anyone on criminal probation.
ZERO TOLERANCE POLICY IF HIRED
The Los Angeles County Sheriff's Department (Department) has a "zero tolerance" policy for its employees for the following:
use of narcotics, controlled substances, and/or prescription drugs without a prescription. use of marijuana with or without a prescription.
Any employee found in violation of this policy will be subject to discharge.
VACANCY INFORMATION
The eligible register resulting from this examination will be used to fill vacancies in the Los Angeles County Sheriff's Department, Countywide Services Division, Parks and County Services Administrative Headquarters.
AVAILABLE SHIFT Any Shift
APPOINTEES MUST BE WILLING TO WORK ANY SHIFT, INCLUDING EVENINGS, NIGHTS, WEEKENDS, AND HOLIDAYS.
APPLICATION AND FILING INFORMATION
APPLICATIONS MUST BE FILED ONLINE ONLY – APPLICATIONS SUBMITTED BY U.S. MAIL, FAX, OR IN PERSON WILL NOT BE ACCEPTED.
All applicants are required to submit a Standard County of Los Angeles Employment application and supplemental questionnaire ONLINE only. Resumes cannot be accepted in lieu of applications, although resumes and supporting documents may be uploaded as attachments to the online application.
Fill out your application and supplemental questionnaire completely. Provide any relevant education, training, and experience in the spaces provided so we can evaluate your qualifications for the job. All information is subject to verification and applications may be rejected at any time during the selection process.
The acceptance of your application depends on whether you have clearly shown that you meet the SELECTION REQUIREMENTS and you have completely filled out your application.
Apply online by clicking on the green "Apply" button at the top right of this post. You can also track the status of your application using this website. Your application and supplemental questionnaire must be submitted electronically by 5:00 p.m., PT, on the last day of filing.
Important Notes
Please note that All information included in the application materials is subject to VERIFICATION at any point during the examination and hiring process, including after an appointment has been made. FALSIFICATION of any information may result in DISQUALIFICATION or RESCISSION OF APPOINTMENT. Utilizing VERBIAGE from Class Specification and Selection Requirements serving as your description of duties WILL NOT be sufficient to demonstrate that you meet the requirements. Doing so may result in an INCOMPLETE APPLICATION and you may be DISQUALIFIED.
NOTE: Candidates who apply online must upload any required documents as attachments during application submission. If you are unable to attach the required documents, you may fax the documents to (323) 415-2580 at the time of filing. Please include your Name, the Exam Number, and the Exam Title on the faxed documents.
Social Security Number
Please include your Social Security Number for record control purposes. Federal law requires that all employed persons have a Social Security Number.
Computer And Internet Access At Libraries
For candidates who may not have regular access to a computer or the internet, applications can be completed on computers at public libraries throughout Los Angeles County.
No Sharing Of User Id And Password
All applicants must file their application online using their own user ID and password. Using a family member or friend's user ID and password may erase a candidate's original application record.
California Relay Services Phone: (800) 735-2922
ADA Coordinator Phone: (213) 229-1621
Teletype Phone: (213) 626-0251
Department Contact Name: Professional Examinations Unit
Department Contact Phone: (323) 526-5611
Department Contact Email: [email protected]