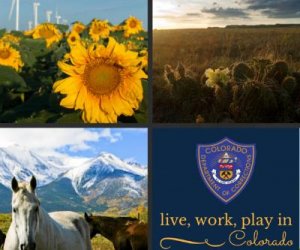 Department Information
The mission of the Colorado Department of Corrections is "To protect the citizens of Colorado by holding offenders accountable and engaging them in opportunities to make positive behavioral changes and become law abiding, productive citizens"
Our vision…"Building a safer Colorado for today and tomorrow"
If your goal is to build a career that makes a difference and build greater public confidence in good government, consider joining the dedicated people of the State of Colorado. Our professionals strive to support state government and the citizens of Colorado. Customer service is a key component for every position in state government as is the focus on ideas and ways to redesign the delivery of services in making state government more effective and efficient.
In addition to a great location, rewarding meaningful work, we offer:
Distinctive career advancement opportunities throughout the state system; Strong, secure, yet flexible Retirement Benefits including PERA Defined Benefit Plan or PERA Defined Contribution Plan plus 401K and 457 plans; Medical and dental health plans; Paid life insurance; Short and long-term disability coverage; 10 paid holidays per year plus vacation and sick time; Employee wellness programs; Tuition Reimbursement; Loan Repayment and Forgiveness Programs; Training opportunities and more.
Job Location: Denver, Colorado
Who May Apply: Colorado residents who meet the minimum requirements by the closing date of this announcement
Salary Note: The starting salary for this position is $2,945 a month
Description of Job
Position works directly with offenders in a state correctional facility.
Primary job duties and responsibilities include but are not limited to:
The position is responsible for providing library services to adult offenders of diverse physical and mental abilities; Answer patron requests for information, determine where to locate the desired information and execute a search. Provide reader's advisory service to offenders and staff. Provide instruction to offenders on information literacy and library skills. Receive requests, prepare orders, and deliver materials to offenders in segregation/diagnostic units who cannot visit the library. Inform patrons about availability of interlibrary loans; screen requests for appropriateness; instruct patrons in loan procedures; search incoming books from other libraries for contraband; Perform library computer functions: use the library's integrated library system, utilize the Internet to respond to information requests, and communicate via email. Train offender clerks in the operation of the cataloging, circulation and statistical reporting functions, supervising and assisting them with these operations when necessary. Catalog and classify library materials using copy catalog process; Position also hires, trains and supervises offenders who work in the library. This will include: work planning, monitoring, evaluating and providing feedback. These duties also include assigning tasks, directing work flow, scheduling work and establishing work standards; Compose and distribute monthly narrative and statistical reports. Perform support/clerical duties as assigned; Determine supplies to be ordered, prepare requisitions, place orders; Recommend materials to be ordered and verify vendor's physical inventory. Check in orders upon receipt and submit receiving reports and other paperwork as required; Supervise the processing and shelving of new materials; Work with Regional Librarian and Programs Manager to monitor the library budget; Read and adhere to all CDOC Administrative Regulations and facility adjustment sheets; Monitor behavior of offender patrons, enforce security regulations and library rules, eject problem patrons, write reports on rule infractions, and resolve conflicts between offenders. Minimum Qualifications, Substitutions, Conditions of Employment & Appeal Rights
Minimum Qualifications
Two years of *general clerical* experience which MUST include providing direct information/ customer service to the general public in an administrative or office support role demonstrating high level decision making and multitasking. (Experience must be clearly described within the work experience section of your application in order to receive credit. Part-time experience will be prorated.)
General clerical duties may include: The accurate and timely completion of processing documents and information; data entry; printing, scanning, and making copies; scheduling; accepting reservations or registrations; arrange meeting logistics and equipment; reception and intake; record keeping, filing and maintenance; answering multi line phones and relaying messages; and general administrative tasks in an office support environment.
NOTE: Retail, food service or call center customer service is not in an office support environment and will not be given credit toward the minimum requirements.
Substitutions
Education from a nationally accredited college or university with course work toward a degree or certification in library technology or information science will substitute for the required experience on a year-for-year basis. (transcripts must be scanned, uploaded and attached to your application in order to receive credit and if you wish to be considered for this position)
Required Competencies
Ability to work directly with offenders in a prison environment; Exceptional interpersonal/customer service skills; Ability to train/instruct others; Experience with Microsoft Excel and Word: must have the ability to create, edit and manipulate data; Ability to correspond and share documents via e-mail; Effective written and oral communication skills Ability to read and comprehend the English language; Ability to effectively communicate fluently in English both verbally and in writing Ability to read and comprehend the English language; Ability to effectively communicate fluently in English both verbally and in writing.
Preferred Qualifications (Candidates may receive higher ratings for possessing any preferred qualifications criteria).
Knowledge of library services; Experience using an integrated library system (ILS); Experience selecting, processing, shelving, and/or maintaining library materials; Experience working with a diverse population.
IMPORTANT INFORMATION
The Assessment Process: Colorado Revised Statutes require that state employees are hired and promoted through a comparative analysis. Part or all of the analysis for this position will include a review of your application material and your responses to any supplemental questions. Applications and responses will be reviewed by a Subject Matter Expert (SME) to assess and rank applicants in order to cut to a top group for additional assessment; or to establish an eligible list for referral to the hiring manager and final consideration.
Be sure the "Work Experience" section of your application is complete and specifically addresses your qualifications, experience, and accomplishments as they relate to the Description of the Job, Minimum Qualifications, Required Competencies and Preferred Qualifications as listed above. Resumes and "see resume" statements will not be accepted in lieu of the "Work Experience" section of the application. Failure to include adequate information or follow instructions by the closing date may result in your application not being accepted and/or may affect your score, rank or inclusion in the final pool of eligible applicants.
If you have transcripts, a license or other relevant documentation regarding your qualifications, upload and attach copies to your application.
In order to process a background investigation, your application must include at least (10) ten years of the most current work experience unless experience related to the job for which you are applying is later than (10) years. Failure to provide this information could result in delays and/or elimination from the background investigation process
Toll Free Applicant Technical Support
If you experience technical difficulty with the NEOGOV system (e.g. uploading or attaching documents to your online application) call NEOGOV technical support at 855-524-5627 Mon-Fri between 6 am and 6 pm (Pacific Time). Helpful hints: if you are having difficulty uploading or attaching documents to your application first, ensure your documents are PDF or Microsoft Word files and second, close the document before you attempt to upload (attach) it.
You are encouraged to print a copy of this announcement for your records**
Conditions of Employment
All job offers are contingent upon a successful medical screening by a healthcare professional, certifying candidate's ability to perform the essential functions of the position, completed at the applicant's own expense. Applicant must consent to hold harmless CDOC and its agents and staff from any liability arising in whole or in part from the testing and the use of this information in connection with CDOC's consideration of application for employment.
Must be 21 years of age; Possess a valid Driver's License; Possess a High School Diploma or GED; Have NO felony convictions, to include any actions defined in 5 U.S.C. 301; U.S.C. 509, 510; 42 U.S.C. 15601-15609. The CDOC shall not hire nor promote anyone who may have contact with an offender who has engaged in sexual abuse which includes acts, activity, and sexual behavior, in a prison or other institution as defined in 42 U.S.C. 1997; or has been convicted of engaging or attempting to engage in sexual activity in the community facilitated by force, overt or implied threats of force or coercion, or if the victim did not consent or was unable to consent or refuse, or has been civilly or administratively adjudicated to have engaged in the activity described in the above paragraph. The agency shall consider any incidents of sexual harassment in determining whether to hire anyone who may have contact with offenders or residents. Successfully pass all modules of the Colorado Department of Corrections Basic Training, to include English reading comprehension, relevant competency assessments and written/practical exams in Defensive Tactics; Possess the physical ability to successfully complete Defensive Tactics;
Lift arms above head and kick as high as own waist; Stabilize another person to accomplish a controlled take down; Use arms, palms of hands, shins, and feet to deliver blows; Withstand impact (slow speed or with a safety bag) on own body from strikes/blows; Swing a baton in a striking technique; Rotate body 90 degrees with feet planted for striking with foot or using a defensive tactic; Get down on one or both knees and up again with multiple repetitions; Positions that have direct contact with offenders may be exposed to Oleoresin Capsicum Must be able to see and hear in order to observe, address and respond to potential breeches in safety and security Seize, hold, control or subdue violent or assaultive persons and defend oneself or others to prevent injury; Demonstrate body agility, strength of all four limbs and the ability to walk and climb stairs consistently; Work in situations involving assaultive behavior, physical control of another person and/or restraint situations; Deal with individuals with a range of moods and behaviors, utilizing tactfulness and a congenial, personable manner; Work with people of the opposite sex, diverse racial ethnic groups, mentally ill and emotionally disturbed offenders; Communicate by talking, listening and/or signaling people to convey or exchange information, assignments; Work in an environment with fluctuating noise and temperature (hot and cold) which may include working outdoors in inclement weather and/or concrete floor/wall work settings; Willing and able to travel; Willing and able to work various shifts, days, afternoons, graveyards (nights) which includes a rotating shift schedule; TB (tuberculosis) screening is required of all new employees upon hire.
Successful completion of a background investigation is required. Should applicant's background reveal criminal charges, it shall be the responsibility of the applicant to provide the Department of Corrections with written/official disposition of any charges.
We are committed to maintaining a drug and alcohol free work environment, and our employees are expected to comply with all state and federal laws. A pre-employment drug test will be administered at any part of the selection process, and applicants who test positive for any controlled substances, including marijuana, will be disqualified from consideration. Random drug screening will occur throughout employment.
Appeal Rights
If you receive notice that you have been eliminated from consideration for the position, you may protest the action by filing an appeal with the State Personnel Board/State Personnel Director within 10 days from the date you receive notice of the elimination. Also, if you wish to challenge the selection and comparative analysis process, you may file an appeal with the State Personnel Board/State Personnel Director within 10 days from the receipt of notice or knowledge of the action you are challenging. Refer to Chapters 4 and 8 of the State Personnel Board Rules and Personnel Director's Administrative Procedures, 4 CCR 801, for more information about the appeals process. The State Personnel Board Rules and Personnel Director's Administrative Procedures are available at https://spb.colorado.gov/. A standard appeal form is available at: https://spb.colorado.gov/. If you appeal, your appeal must be submitted in writing on the official appeal form, signed by you or your representative, and received at the following address within 10 days of your receipt of notice or knowledge of the action: Colorado State Personnel Board/State Personnel Director, Attn: Appeals Processing, 633 17th Street, Suite 1320, Denver, CO 80202-3604. Fax: 303-866-5038. Phone: 303-866-3300. As of November 12, 2013, the Board will be located at 1525 Sherman Street, 4th Floor, Denver, Colorado 80203. The ten-day deadline and these appeal procedures also apply to all charges of discrimination.