Full Time
Anywhere
Applications have closed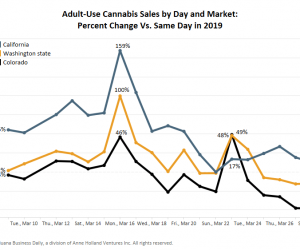 We are seeking Account Managers to develop and maintain relationships with co-ops and dispensaries in California. This is an exciting opportunity to be a leader in a company that represents the most requested and highest quality products in the industry. Some of the brands we carry are Heavy Hitters, Beard Brothers, Farm, Bae, Surplus, Rad and more!
About Us
Outbound Sales experience is required.
Mammoth offers a wide variety of services in the cannabis industry including business development, branding, marketing & operations, distribution and more.
Responsibilities
Be the most professional/knowledgeable salesperson in the industry Establish strong relationships with customers through visits, texts, emails, and phone calls Handle all customer-related questions, inquiries, and orders professionally and promptly Create and run customer events Promote products by ensuring each customer has the right merchandising displays and products are presented professionally Ensure territory growth Assist other Brand Managers with customers or events Educate budtenders on products, services, and industry Ensure sales products/customers are marketed property online (Weedmaps) Provide team members and company ideas and insights to improve products, services, and sales Identify and close new accounts/opportunities Constantly push to get more space or product selection into each customer Identify competitors and potential threats and report to leadership new accounts, obtain orders, develop solutions, and build strong customer relations
Requirements
California medical marijuana recommendation. Driver's license, clean driving record, and auto insurance. Ability to travel throughout the assigned territory. Excellent verbal communication & presentation skills. Outstanding interpersonal and persuasive skills. Demonstrated ability to learn and apply product-related information in a professional manner. Proven ability to build and execute a strategy for assigned territory that generates and develops new business. High level of integrity, personal motivation, and sense of urgency. Willingness to work occasional weekends to support industry trade shows & events. Willingness to work after-hours for educational business meetings, trade shows, events & presentations. 2 years of customer service experience.
We are an equal opportunity employer, and do not unlawfully discriminate against, make employment decisions, or permit harassment based on perceived or actual race, color, religion, sex, national origin, citizenship, immigration status, marital status, age, sexual orientation, gender identity characteristics or expression, disability, medical condition, U.S. Military or veteran status, salary history, or any other basis protected under federal, state, or local laws, regulations, or ordinances. Our company is committed to complying with all applicable laws providing equal employment opportunities, including but not limited to the Fair Pay Act, FEHA, and all applicable laws and ordinances regarding conviction and arrest history.