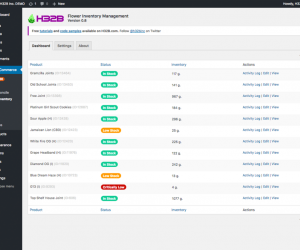 A growing cannabis firm is seeking an Inventory Manager.
  Company Information ·         Multistate regulated Cannabis firm. ·         Has a Hemp focused subsidiary and is also acquiring a high-profile CBD company. ·         Well-respected founders and board of directors that are some of the biggest movers and shakers of the Cannabis industry.
  Title: Inventory Manager Location: near Pittsburgh area. Job Summary: This candidate will be responsible for managing, tracking and ordering all products for a cultivation facility.    Duties and Responsibilities   ·         Maintain adequate inventory levels of all products via MJ Freeway. ·         Intake inventory deliveries and process into the store's inventory system. ·         Send inventory totals to General Manager weekly to discuss any issues and review new product samples. ·         Audit third-party products and accessories and place orders as needed. ·         Audit flower and concentrate products and place orders with the cultivation department. ·         Communicate with cultivation to arrange weekly inventory drops. ·         Manage relationships with new and current vendors. ·         Communicate with and educate managers and budtenders on new products or changes to existing products. ·         Assist with investigations of any discrepancies. ·         Manage sample, garden drop, expiration and product logs. ·         Reconcile and MJ Freeway to reconcile inventory. ·         Check daily for any incoming 3rd party deliveries. ·         Create product profiles, label product and enter quantities into MJ Freeway. ·         Board and organize all products in the vault. ·         Other duties as assigned.   Job Requirements (Education and Experience)   ·         4-year degree preferred in Business Management or related topics ·         Experience in Inventory Management/Procurement ·         Experience with BioTrack, MJ Freeway or METRC tracking systems ·         Some travel to the cultivation and dispensary facilities within PA.     Qualifications (Knowledge, Skills and Abilities)   ·         Strong communication and organizational skills ·         Proficiency in Microsoft Office ·         Ability to multi-task ·         Detail-oriented   This job description is intended to explain the general nature and level of work being performed. It is not intended to be construed, as an exhaustive list of all responsibilities, duties, and skills required of personnel so classified.     
If this sounds like YOU, please submit an updated MS Word Resume.