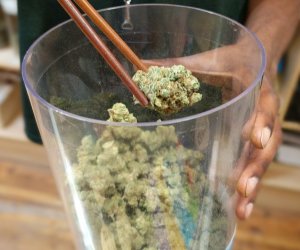 Urbn Leaf, the new standard in licensed dispensaries is now searching for individuals to expand our team in Seaside, CA. We are seeking hip and talented individuals with a keen sense of appropriate professional demeanor and dress for an upscale dispensary. We expect exceptional customer service skills with experience within the cannabis industry, or as an alternative, a strong background in hospitality, retail merchandising or management outside the industry.
Please note, this position is Part-Time and candidates must have weekend availability.
Job Description
The customer experience begins and ends with the Budtender. A Budtender is responsible for the initial greeting, assessing the needs of the customer, and educating/guiding them on the benefits and differences of our products. Budtenders deliver the company's retail promise to every person and patient while ensuring high levels of customer satisfaction through excellent sales service. A successful Budtender will be able to elevate company standards, achieve sales goals, provide excellent product suggestions, and exceed our customer's and patient's expectations. The Budtender will ultimately inspire customer and patient confidence and create loyalty to our brand.In addition, the Budtender maintains strict inventory controls to ensure complete compliance through the prevention of diversion.
Responsibilities and Duties
Responsibilities Include, But Are Not Limited To
Ensure stations are ready to go at venue opening time Maintain fully stocked and clean stations at all times Assist with running side work, stocking and cleaning during any and all downtime Ensure opening and closing cleaning and organization checklist is completed Coordinate and participate in periodic all staff cleanings and staff meetings Maintain proper cash handling procedure at all times Ensure all guests are greeted as they arrive and wished farewell upon their departure Ensure all guests/patients receive excellent customer service Inform the Inventory Manager or MOD if any product inventory is running low Be knowledgeable about everything and anything cannabis related Be knowledgeable of any and all special including in house daily deals and Weedmaps daily deals Participate in staff events, outings and promotional events Be active on social media sharing, liking, and posting all content shared on Urbn Leaf's social media outlets Read industry publications to keep up-to-date on trends Ensure each guest receives your full attention during their transaction Keep all personal items off the sales floor at all times Ensure you are on time for each and every shift Ensure your uniform is clean and you have all tools at your station prepared for your shift Perform other duties or projects as assigned by any other Shift Lead, Supervisor or Manager
Qualifications And Skills/ Requirements
Must be 21 years or older Excellent Customer Service Skills Excellent Communication Precise Math Skills Organizational Skills Attention to Detail Multi-task Oriented Stress Management/Composure Ability to Stand for Long Periods Able to lift up to 50 pounds repeatedly Some college education, 4-year degree (or beyond) preferred Knowledge of marijuana strains, edibles, extracts and other current products on the market
In order to be considered for employment, please read the directions below:
Please, NO CALLS to the store regarding employment – all communication will be done via email. We receive a very high volume of applications daily and are unable to respond individually to each and every one. All applications are given a thorough review, and if we are interested in a candidate, we will contact them directly.
If you do have previous work experience in the cannabis industry, please make sure to provide a detailed work history somewhere within either your email or resume.
Equal Employment Opportunity Policy
Urbn Leaf provides equal employment opportunities to all employees and applicants for employment and prohibits discrimination and harassment of any type without regard to race, citizenship status, color, religion, age, sex (including pregnancy), national origin, disability status, family medical history or genetic information, military or veteran status, marital status, parental status, political affiliation, sexual orientation, gender identity or expression, or any other characteristic protected by federal, state or local laws. This policy applies to all terms and conditions of employment, including but not limited to recruiting, hiring, placement, promotion, termination, layoff, recall, transfer, leaves of absence, compensation and training.
Urbn Leaf complies with federal and state disability laws and makes reasonable accommodations for applicants and employees with disabilities. If reasonable accommodation is needed to participate in the job application or interview process, to perform essential job functions, and/or to receive other benefits and privileges of employment, please contact Talent Acquisition at careers @urbnleaf.com
Job Type: Full-time
Experience
Retail Sales: 1 year (Required) Customer Service: 1 year (Required) Cash Handling: 1 year (Required) Professional Cannabis: 1 year (Preferred)
Location:
Seaside, CA (Required)
Work Authorization
United States (Required)
Shifts
Morning (Required) Mid-Day (Required) Evening (Required)
Working Days
Monday (Required) Tuesday (Required) Wednesday (Required) Thursday (Required) Friday (Required) Saturday (Required) Sunday (Required)
SDL2019-64