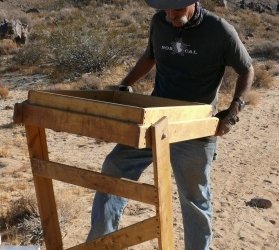 Department of Parks and Recreation
Job Description And Duties
ASSOCIATE STATE ARCHEOLOGIST – CULTURAL RESOURCES DIVISION / CANNIBUS TAX FUND PROGRAM / HEADQUARTERS
The reporting location for this position is Sacramento, CA. This position will work under the direction of the Supervisor, Cultural Resources Program.
This position is responsible for identification, scope and oversight of remediation of impacts to cultural resources in districts affected by illegal cultivation activity. The Associate State Archaeologist works as a member of a multi-disciplinary team to identify impacts, effects and treatments to cultural resources within and in proximity of identified cannabis grow areas. The Associate State Archaeologist prepares inventories of existing cultural resources and recommends plans for effective cultural resources management, reviews and evaluates environmental compliance documents, prescribes treatment and mitigation measures, and assists in the development of educational programs about the impacts from illegal cannabis activities to cultural resources within California State Parks.
State housing is not available. For further information regarding this position, please contact Michael McGuirt at click apply or at click apply
You will find additional information about the job in the .
Special Requirements
DO NOT include any confidential information to your application or supporting documents (i.e., Social Security Number, birthdate, marital status, medical information, examination results, method of eligibility, etc.) SROA/SURPLUS Applicants: You must check the SROA/Surplus as your claimed method of eligibility and attach your SROA/Surplus letter as an additional document.
Additional Instructions
If submitting your completed Application Package by mail or hand delivery, you must include the Position # click apply-006 and the Job Control # JC-196356 in the "Examination or Job Title for which you are applying" section on the STD. 678. Note: If you are applying for multiple positions, you must complete a STD. 678 for each position separately. Incomplete applications or applications received with multiple positions listed on one application will not be considered.
Required Application Package Documents
Required
Applicants who do not submit the required items timely may not be considered for this job
The following items are required to be submitted with your application.
Current version of the State Examination/Employment Application STD Form 678 (when not applying electronically), or the Electronic State Employment Application through your Applicant Account at All Experience and Education relating to the Minimum Qualifications listed on the Classification Specification should be included to demonstrate how you meet the Minimum Qualifications for the position.