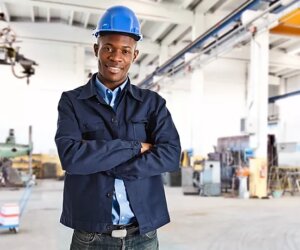 You will receive instruction under the program guidelines of the
Apprenticeship Program.
You will receive and perform shop assignments in the rudiments of trade
tasks, technical shop subjects, and tools, equipment and materials of the
trade.
You will perform elementary trade tasks under supervision of a shop
instructor or artisan.
You will perform other tasks incidental to the mastery of trade
fundamentals.
Travel_Required
Occasional travel – You may be expected to travel for this position.
Supervisory status
No
Promotion Potential
00
Help Help
Requirements
Conditions of Employment
Must be a US Citizen. Must be determined suitable for federal employment. Must participate in the direct deposit pay program. New employees to the Department of the Navy will be required to
successfully pass the E-Verify employment verification check. To learn
More About E-Verify, Including Your Rights And Responsibilities, Visit
Males born after 12-31-59 must be registered for Selective Service. You will be required to successfully complete a pre-appointment physical
examination.
You will be required to obtain and maintain an interim and/or final
security clearance prior to entrance on duty. Failure to obtain and
maintain the required level of clearance may result in the withdrawal of
a job offer or removal.
You must have reached your 18th birthday prior to appointment. Successful completion of a pre-employment drug test (including marijuana)
is required. A tentative offer of employment will be rescinded if you
fail to report to the drug test appointment or pass the test. You will be
subject to random testing.
Qualifications
PLEASE NOTE: You will be applying for the Apprentice program and not a specific
trade or organization. The Southwest Regional Apprentice Program management
reserves the right to place you in a specific trade at any of the partner
organizations.
The Southwest Regional Apprentice Program will be filling positions within the
following series:2805 – Electrician Apprentice; 2604 – Electronics Mechanic
Apprentice; 3414 – Machinist Apprentice; 5334 – Marine Machinery Mechanic
Apprentice; 4204 – Pipefitter Apprentice; 5210 – Rigger Apprentice; 3703 –
Welder Apprentice; 2606 – Electronics Industrial Controls Mechanic.
Although a specific length of time and experience is not required for most
trade and labor occupations, you must show through experience and training that
you possess the quality level of knowledge and skill necessary to perform the
duties of the position at the level for which you are applying. Qualification
requirements emphasis is on quality of experience, not necessarily the length
of time.
Your qualifications will be evaluated on the basis of your level of knowledge,
skills, abilities and/or competencies in the job elements and screen out listed
below.
This job has a screen-out element which will be used to determine minimum
eligibility for this job. Applicants who do not receive a minimum of two points
on the screen-out element(s) will be found ineligible. The Screen-out Element
for this position is: Aptitude and interest for learning trade theory and
practice such as: Experience, training or working in a vocational or trade
related field or willingness and ability to learn a trade.
APPLICANTS MUST COMPLETE THE OFFICE OF PERSONNEL MANAGEMENT (OPM) WAGE GRADE
PERFORMANCE POTENTIAL EXAMINATION (i.e. OPM Apprentice Test) IN SAN DIEGO, CA
no earlier than May 2020 (actual dates to be determined). To be considered you
must complete this no-fee exam with a minimum score of 70% or higher.
REGISTRATION FOR THE TEST WILL BE ONLINE. Travel to/from San Diego, CA must be
arranged by the applicant and at the applicant's expense. Applicants will be
notified about the test via email, with invitations sent from Eventbrite, an
on-line scheduling service. Applicants who fail to register, fail to appear, or
fail to complete the test will be removed from further consideration under this
recruitment.
There are limited amount of testing spots available for testing candidates.
Appointments will be granted on first come/first served basis to those
applicants who register for testing. All applicants who successfully complete
the application process for these positions will be notified of the process for
exam registration after the closing date indicated on the announcement.
Applicants must meet the requirements of the Office of Personnel Management
(OPM) Job Qualification Handbook for Trades and Labor Occupations. Additional
Qualification Information Can Be Found At
oversight/classification-qualifications/federal-wage-system-qualifications/
#url=Overview
Selectee will be required to sign a Continued Service Agreement obligating them
to 31 months of service from completion of program academics IAW SECNAVINST
25A and local policy. Failure to comply with this agreement will result
in the apprentice reimbursing their employing organization for tuition costs.
Education
This job does not have an education qualification requirement.
Additional_Information
This position is covered by the Department of Defense Priority Placement
Program.
Additional vacancies may be filled by this announcement.
These positions have various promotion potential to the journey-level positions
at the WG-09, WG-10, or WG-11 (depending on the trade). You may be non-
competitively promoted to the full performance level after meeting all
regulatory requirements, and upon the recommendation of management. Promotion
is neither implied nor guaranteed.
You will spend up to four years as an entry-level trades person. After
successfully completing all required training and experience, you will progress
to the journey-level for your trade. Continued employment and advancement
requires satisfactory completion of all classroom training and work experience.
College level classroom training may include, but will not be limited to, trade
skills and trade related mathematics (e.g. algebra, geometry, trigonometry),
introductory sciences (e.g. metallurgy, electrical theory), and trade drawings
and blueprints. You may be promoted after meeting all requirements, and upon
the recommendation of management. Promotion is neither implied nor guaranteed.
As part of the apprentice program, you are required to receive 1,800 hours of
on-the-job and in-school training annually under the supervision of a journey-
level tradesperson, college professor, or trade instructor. The employer will
make payment directly to the approved academic training institution for tuition
costs. Additional expenses incurred for school (parking permits/tickets, books,
etc.) will be the responsibility of the Apprentice. You will be required to
sign an agreement to work within the agency that employs you as an apprentice
(Puget Sound Naval Shipyard & IMF, Portsmouth Naval Shipyard, or Fleet
Readiness Center Southwest) for 31 months following the completion of the
academic portion of the program.
The job may require irregular hours, rotating shift work, overtime, and/or
evening and/or weekend work; and/or travel OCONUS or CONUS. Work requires
considerable walking, stooping, squatting, kneeling, crouching, standing,
climbing, bending, stretching, pulling, and working in cramped and awkward
positions for long periods of time.
A tentative offer of employment will be rescinded if the selectee fails to meet
the pre-employment requirements, including failure to report to any of the
scheduled appointments.
If you are unable to apply online and request information about the Alternate
Application process, please contact the Department of Navy's Employment
Information Center.
Federal annuitant information: The selection of an annuitant is subject to the
Department of Defense and Department of the Navy policy on the employment of
Annuitants. Policy Information May Be Found At
donhr/Documents/CivilianJobs/FedCivAnnuitants.pdf
ICTAP Applicants: To be considered well-qualified and exercise selection
priority as an ICTAP candidate for this vacancy, displaced Federal employees
must satisfy all qualification requirements for the position and receive a
rating in the highly qualified category or higher. For more information about
ICTAP Eligibility Please Review The Following Link
Help/working-in-government/unique-hiring-paths/federal-employees/ictap/
How_You_Will_Be_Evaluated
You will be evaluated for this job based on how well you meet the
Qualifications Above.
In order to qualify for this position, your resume must provide sufficient
experience and/or education, knowledge, skills, and abilities, to perform the
duties of the specific position for which you are being considered. Your resume
is the key means we have for evaluating your skills, knowledge, and abilities,
as they relate to this position. Therefore, we encourage you to be clear and
specific when describing your experience.
You_Will_Be_Rated_Based_On_The_Information_Provided_In_Your_Resume_And
Responses_To_The_Occupational_Questionnaire,_Along_With_Your_Supporting
Documentation_To_Determine_Your_Ability_To_Demonstrate_The_Following_Job
Elements
When the application process is complete, we will review your resume to ensure
you meet the hiring eligibility and qualification requirements listed in this
announcement.
You will be evaluated and rated under Category Rating selection procedures.
Additional points are not added for veterans' preference; however, preference
is still applied. Applicants eligible for veteran's preference will receive
selection priority over non-veterans.
If you meet the qualification requirements, your application will be placed in
One Of Three Categories
Best Qualified- Candidates in this category possess exceptional skills and