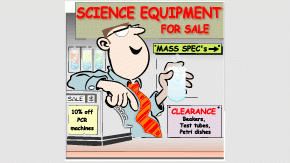 Design and drive execution of strategic applications development for the mass spectrometry products.Understand customers' current and future needs and design application development strategy to address those needs.Influence the scientific community and market via key applications, publications, conference presentations, and patents.Evaluate competitive publications and presentations and come up with a clear strategy to demonstrate PerkinElmer's competitive edge.Demonstrate independent and creative scientific thinking, ability in solving complex problems, and resilience to setbacks and changes.Be a team player and put team objectives above personal ambitions.
Basic Qualifications
Bachelor's degree in Chemistry or Biochemistry with 8-10 years of experience in Relative domain.Hands on experience with triple quadruple systems.Ability to troubleshoot LC-MSMS related issues.Knowledge of mass spectrometer theory and components.
Preferred Qualifications
Master's or Ph.D. is preferred.Experience with food, environmental, or cannabis applications of mass spec.Ability to dissect problems and projects into manageable tasks.Passionate about working in a lab developing applications to address customer needs.Excellent group interaction skills and negotiating skills.Strong written and oral communication skills.Proficient in English, both verbal and written.Demonstrated ability to handle multiple tasks with different priorities.