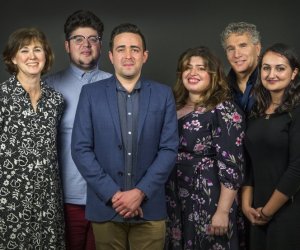 Do you know IDEA from ESSA, the Star Report from the Heckman Equation? Do you want to move beyond toxicity in news? Are you insatiably curious about the different factors that shape the experience of childhood in America today?
If so, we want you to join us as a Reporter on our dynamic Education Lab team. Now in its sixth year, this community-funded project takes a solutions journalism approach to public education coverage.
The full educational spectrum, from birth (or even before it) through college is your oyster.
We want you to use investigative skills to illuminate problems and find the most promising solutions – then turn those findings into lively copy and other forms of storytelling. These stories might be outside our region, so we'll send you there. We want you to use empathy to bring new voices to our coverage, to consider engagement and human connection as you work.
We're trying to build a team that continues to reflect the rich cultural diversity of the community we cover. Education Lab is part of The Seattle Times, a family-owned, Pulitzer Prize-winning newspaper that cuts through clutter and provides our established audience of 1.9 million with timely, relevant news. We serve the Pacific Northwest with thoughtful, independent journalism that has impact. Ed Lab's mission is to shine a light on the education system's inequities and uncover potential solutions to them.
Successful candidates will have experience covering early-education programs, K-12 schools and colleges, and a strong understanding of education trends, policies and challenges at the state, local and federal level. We're particularly interested in data skills and strong facility with school finance systems. We can't wait to find you.
Responsibilities
Be curious, source up and read widely to the point where you have a diverse, ever-growing story list that mixes daily stories with longer-term features.Report with humanity: Use good, empathetic interview techniques to gain a better understanding of your story and the people in it.
Write with authority based on understanding of your subject matter. Write with a flair that shows your excellent command of language. Self-edit for crisp, clean copy on multiple platforms.Take on new challenges. Produce enterprise stories and stay ahead of news by anticipating or uncovering developments. Be willing to anchor a series or project.Dig! Be comfortable filing public records requests and flexing your investigative muscles on a daily basis.Analyze databases to find your own story ideas.Pitch solutions stories that interrogate responses to problems.Engagement is baked into our DNA, so consider it while reporting. It might include public speaking, facilitating conversations in person or on social media or other events. We're tasked with experimenting, so we want your creative ideas for how we can better interact with our community.Be a good team member. We pride ourselves on trusting and supporting each other, and being flexible during unexpected moments of need.You have unimpeachable ethics and standards.
Qualifications
Experience: This position requires a minimum of four years' reporting experience, preferably at a metropolitan daily news organization. You should have at least a year with a specific emphasis on education. Only applicants with the minimum, relevant experience will be considered.Education: College graduate or equivalent combination of education and experience.
Preferred Skills
You should be able to read education research and quickly separate the wheat from the chaff.We're especially excited about candidates who regularly do their own data processing, using such tools as Excel, R, Access or SQL. Familiarity with education databases such as CRDC, CEDARS and IPEDS is better yet.It is our job to reach underserved communities, many of which include immigrants. So fluency in a language other than English is a big advantage.
We are committed to diversity and creating an inclusive newsroom and encourage members of traditionally underrepresented communities to apply.
This position requires a criminal background check, drug screen for controlled substances (including marijuana), and personal car insurance (as well as a valid driver's license) after an offer is given. Please note this position is also a union-represented position and requires union dues be paid on a monthly basis.
Resume and attachments over 10 MB per file cannot be accepted.
Powered by JazzHR