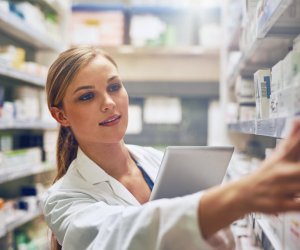 Responsibilities
General Overview. Dispensary personnel perform activities in a predominately clean room environment. Duties include: weighing/measuring, packaging, labeling, calibration (balance weigh checks) and cleaning. Also required is the use of a biological safety cabinet when working in Dispensary on a daily/weekly basis. Performs other related duties at the direction of the Lead and Sr. Dispensary Technicians, Dispensary Supervisor or Dispensary Manager. The candidate must have a proven track record for attention to detail. Apply acceptable cGMP practices during execution of all work tasks.
Primary Responsibilities
Performs daily weigh ups in Dispensary (clean room environment) to support manufacturing schedule. Responsible for using measurement equipment accurately to weigh up lot controlled materials and perform calibrations (balance weight checks) on bench top and floor scales. Accurately and legibly fills out Batch Records, Log books and all official forms. Dispenses filter batch records to Manufacturing areas on a weekly basis. Generates labels daily for raw materials being weighed/measured in Dispensary. Maintains appropriate inventory levels of raw materials/filters to support weekly production schedule. Ensures that all assigned tasks are in compliance with current Good Manufacturing Practices (cGMP) and maintains constant inspection readiness. Assist in revising documents as needed. Performs cycle counts under the direction of Warehouse Management for all Dispensary locations. Maintains safe working environment and utilizes appropriate safety equipment. Accurately performs data entry utilizing the Global SAP system. Provide on call support during week nights, weekends and Holidays as needed Contribute and adhere to safety, environmental, quality, and Lilly Corporate Standards. Maintain an elevated level of safety awareness. Communicate safety issues to management in a timely manner. Perform all duties with a high level of honesty and integrity
Company Overview
At Lilly, we unite caring with discovery to make life better for people around the world. We are a global healthcare leader headquartered in Indianapolis, Indiana. Our 39,000 employees around the world work to discover and bring life-changing medicines to those who need them, improve the understanding and management of disease, and give back to our communities through philanthropy and volunteerism. We give our best effort to our work, and we put people first. We're looking for people who are determined to make life better for people around the world. #WeAreLilly
Basic Qualifications
High School Diploma | GED Completion of Post Offer Exam, Completion of Work Simulation or Completion of Administrative Skills Testing, if applicable. Qualified candidates must be legally authorized to be employed in the United States. Lilly does not anticipate providing sponsorship for employment visa status (e.g., H-1B or TN status) for this employment position
Additional Information
Candidate will be available to work a 5 x 8 hour/day shift. Some "call in" overtime to support manufacturing and/or meet business needs will be required. This position is not permanent. It is for a fixed duration of two years with potential to extend annually for up to 4 years and includes benefits.Lilly is an EEO/Affirmative Action Employer and does not discriminate on the basis of age, race, color, religion, gender, sexual orientation, gender identity, gender expression, national origin, protected veteran status, disability or any other legally protected status.Eli Lilly and Company, Lilly USA, LLC and our wholly owned subsidiaries (collectively "Lilly") are committed to help individuals with disabilities participate in the workforce and ensure equal opportunity to compete for jobs. If you are an individual with a disability and require a reasonable accommodation to participate in the application processes please email Lilly Recruiting Compliance. Please note, this email address is intended for use only to request a disability accommodation, please email Lilly Recruiting Compliance for further assistance. Inquiries which are not requests for accommodations may not receive a response.
Additional Skills/Preferences
Prefer 0-5 years of prior warehouse/clean room experience. High School Diploma required. Associates degree preferred but not required. Valid drivers license – No CDL required Ability to lift 40 pounds. Firm knowledge of basic math operations/metric system is essential. Ability to work in a team environment as well as independently. Able to drive a forklift and use other powered material handling equipment
Region
North America
Country
USA
City
Branchburg
Location Details
Branchburg, New Jersey
Workplace Arrangement
Local
15-Sep-2020