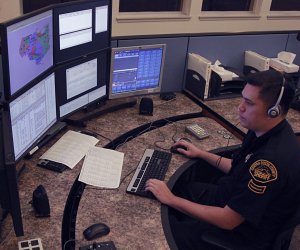 Richmond Country Club CA
The Position
Under general supervision, the Communications Dispatcher II receives emergency and non-emergency calls from the public, including cellular telephone users, requesting services; dispatches emergency police, fire, and other public safety units in a coordinated manner; operates various communications equipment; functions as a lead worker; provides training; and performs other related work as required. Shift work and working on Saturday, Sunday and holidays are normal working conditions for this job. A 5% salary differential is paid for the 4:00 p.m. to Midnight shift, and a 7.5% salary differential is paid for the Midnight to 8:00 a.m. shift. Communications Dispatcher II's are required to wear a uniform and receive a $600 annual uniform allowance.
Examples of Duties
Receives emergency and non-emergency calls, complaints, and inquiries from the public. Evaluates information to determine jurisdiction, priority, staff availability and equipment needed. Dispatches police, fire, and other public safety units, in accordance with established procedures, and based on the nature of the call, staff availability, assigned geographical area and location of the call. Provides responding units with pertinent information such as suspect information; warrant, probation and parole information; vehicle registration status; license status; premise and subject history; and location of Knox boxes and hideaway keys. Operates a variety of communication equipment including radio transmitters and receivers, computerized communications terminals and keyboards, multi-line telephone equipment, and City-wide camera monitoring equipment. Retrieves information in response to requests from police and fire units, and monitors and maintains status and location of units. Provides callers with established instructions for emergency medical situations. Provides training to Communications Dispatcher I's and Call Takers; reviews work for accuracy and compliance with standards. Handles more complex situations that demand a higher level of knowledge and skills. In the absence of a Communications Shift Supervisor, may be required to perform some of the duties of a Communications Shift Supervisor; may be required to act (in accordance with the Personnel Rules) as Communications Shift Supervisor. Prepares records and logs. Provides information to the public by telephone; advises them on what agency to contact for services not provided by the City. Contacts other agencies to coordinate public safety and mutual aid operations.
Minimum Qualifications
Experience/Training
Eighteen months (18) of full-time experience performing public safety dispatch duties, the ability to type a minimum of 30 words per minute, and qualifications listed below
Certification
Successful completion of a POST-certified 120-hour Public Safety Complaint/Dispatchers' Basic course and/or possession of a certificate for the POST Equivalency Examination. Candidates must submit proof along with their application.
Typing Certificate: Each applicant must submit, with their application, a typing certificate. The certificate must specify qualification on a computer of at least 30 net w.p.m., with no more than 15 errors. Only certificates from a public agency, school/training center or employment agency (issued within six (6) months of application) will be accepted. Each certificate must include the following: name of the school, agency or institution conducting the testing; the equipment used; the gross and net number of words, and the number of errors; the signature of the individual responsible for the testing; and the testing date.
General Knowledge Of
Main streets, major buildings, and geographical areas of the cities of Richmond, San Pablo (including Contra Costa College), El Cerrito and Kensington.
Principles and processes for providing customer service.
Knowledge of communication devices and equipment.
Ability To
Accurately dispatch public safety equipment in a coordinated manner.
Verbally communicate, obtain, retain and analyze information from distraught or incoherent callers regarding their needs.
Interpret written instructions, policies, rules and other materials used in performing dispatching duties.
Quickly sort and prioritized information regarding multiple incidents.
Relay messages exactly as received.
Operate computerized communications terminals.
Use good judgment as to when to act independently and when to refer situations to a supervisor.
Speak clearly and concisely in English.
React quickly, accurately, and calmly in handling emergency calls for assistance.
Prepare records and reports and maintain files.
Work independently.
Solve problems and explain work instructions to Communications Dispatcher I's and Call Takers.
Follow written and oral directions.
Additional Requirements
No felony convictions No use of the following drugs within the past five (5) years: Cocaine, Hallucinogens, LSD, Heroin, Methamphetamine, MDMA (Ecstasy), Psilocybin (Mushrooms). No use of the following drug within the past two (2) years: Marijuana (Cannabis) Successful candidates must pass a thorough background investigation, including a criminal history check for job-related convictions, fingerprinting, polygraph test, credit check, and a check of drug use history.
Supplemental Information
APPLICATION AND SELECTION PROCESS
Applicants must apply online and submit: (1) a completed City of Richmond employment application and supplemental questions; (2) a valid typing certificate; AND (3) proof of completion of a POST certified 120-hour Complaint/Dispatchers' Basic course or possession of a certificate for the POST Equivalency Examination. INCOMPLETE APPLICATIONS WILL BE SUBJECT TO REJECTION.
APPLICATION APPRAISAL: All completed Employment Application packages will be evaluated and scored based on job-related qualifications criteria. An Employment List will be established, and your placement on this list will be determined solely (100%) by information provided on the Employment Application and responses to the Supplemental Qualifications Questionnaire. Having all of the minimum qualifications does not guarantee placement on the Employment List.
EMPLOYMENT LIST: Candidates who successfully pass the examination process will be placed on an employment list with a ranking of "A" (Best Qualified), "B" (Well Qualified) or "C" (Qualified). Successful candidates will be subject to a background investigation, polygraph and medical examination prior to a final job offer. The Employment List is valid for four (4) months unless extended an additional four (4) months, for a total of eight (8) months.
IMMIGRATION REFORM CONTROL ACT: In compliance with the Immigration Reform Control Act of 1986, individuals offered employment by the City of Richmond will be required to show documentation of eligibility to work in the United States as a condition of employment.
NON-DISCRIMINATION POLICY: The City's policy prohibits discrimination against any applicant on the basis of race, color, age, physical or mental disability, religion, creed, sex, sexual orientation or national origin.