Full Time
Anywhere
Applications have closed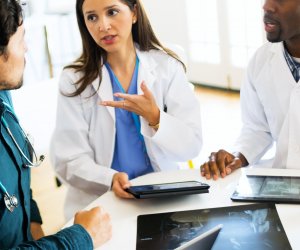 University of California, San Francisco
Job Overview
Job Summary
Under the supervision of the Clinical Research Supervisor, Program Manager, and Principal Investigator (PI), the Clinical Research Coordinator (CRC) will serve in the Department of Medicine, Clinical Pharmacology Program. The CRC will provide support and coordination for research focused on understanding the impact of nicotine, tobacco and cannabis use. The research protocols within Clinical Pharmacology are varied and include clinical trials, community based interventions, and observational studies with the intent to understand the use and behavior patterns of nicotine addiction, biomarkers of nicotine exposure, and how to prevent exposure to secondhand smoke in vulnerable populations. Research studies take place at the UCSF Tobacco Research Center and/or the Clinical & Translational Science Institute (CTSI) at Zuckerberg San Francisco General (ZSFG).
The CRC will be responsible for supporting the clinical research team by recruiting participants, enrolling, registering, obtaining informed consent, scheduling study subjects; assuring collection and shipment of samples; assisting research personnel to keep participants on study schedules; review list of criteria to help determine if participants are able to participate in the study; interacting with healthy volunteer participants, and encouraging participation, cooperation, and efficiency in the clinical research process; ensuring all study procedures are completed on time; completing study visits; study forms; collecting, entering and cleaning data into study databases, maintaining data quality; gathering medical history data regarding participants; assisting with preparation of reports and tables; organizing files, ordering study supplies, attending team meetings.
DIVISION OF CARDIOLOGY
The Division of Clinical Pharmacology's research focuses on the human pharmacology of nicotine in relation to pathogenesis of, and individual differences in vulnerability to tobacco-related disease, and the use of pharmacologic data as a basis for public health policies to prevent and reduce such disease.
About Ucsf
The University of California, San Francisco (UCSF) is a leading university dedicated to promoting health worldwide through advanced biomedical research, graduate-level education in the life sciences and health professions, and excellence in patient care. It is the only campus in the 10-campus UC system dedicated exclusively to the health sciences.
Required Qualifications
HS graduation and sufficient experience and demonstrated skills to successfully perform the assigned duties and responsibilities Proficiency with Microsoft Office and Windows Demonstrated proficiency in communicating to diverse groups (age ranges and varying levels of English proficiency) Excellent verbal and written communications and presentation skills; excellent organizational skills; and excellent interpersonal skills to work effectively in a diverse team Ability to establish cooperative working relationships with participants, co-workers & physicians
Note: Physical/health screening required, including TB test.
Preferred Qualifications
Bachelor' or Associate's degree in a related field One year of experience working or interning in either an administrative, clinical, and/or research setting Experience measuring blood pressure and heart rate Experience working with patients or study subjects in a clinical setting Knowledge of case report forms (CRF) and other data collection instruments for clinical use at the CRC Experience with Electronic Data Capture Systems such as REDCap Knowledge of clinical or basic science research techniques Knowledge of UCSF and departmental policies for dealing with reimbursement, guidelines for research, confidentiality and HIPPA regulations, following the UCSF mission statement and purpose for research, and a clear understanding of policies and procedures on patient safety and confidentiality (electronic and hard copy medical records, patient charts, communication, etc.) Knowledge of medical terminology, research policies and guidelines, guidelines for packing/shipping infectious substances, database building/analysis, and data management within some of the following: Access, Stata, SASS/SPSS, and Teleform programming platforms Experience applying the following regulations and guidelines:
Good Clinical Practice Guidelines
Health Information and Accountability Act (HIPAA)
The Protection of Human Research Subjects
Institutional Review Board (IRB) regulations for recruitment and consent of research subjects
Effective Cash Handling Procedures
License/Certification
n/a
Job Code and Payroll Title
9335 Clinical Research Coordinator
Organization
Campus
Appointment Type
Career
Percentage
100%
Location
ZSFG
Work Days
Monday – Friday, 8:30 am – 5:00 pm or 7:30 am – 4:00 pm
Shift
Days
Shift Length
8 Hours
Equal Employment Opportunity
The University of California San Francisco is an Equal Opportunity/Affirmative Action Employer. All qualified applicants will receive consideration for employment without regard to race, color, religion, sex, sexual orientation, gender identity, national origin, age, protected veteran or disabled status, or genetic information.