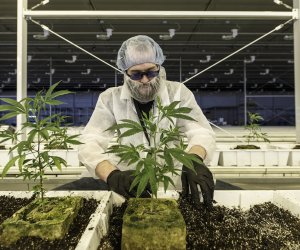 LivWell Enlightened Health
Cannabis Cultivation Associate $14.00/hr. DOE
Incentives / Benefits
100% Full Coverage Medical Insurance Coverage, Including additives of Dental, Vision, and Life (Value of $322.62 per month)Join into our 401k plan (We will match up to 4%!)Great Paid Time Off Plan ( 3-wks paid in Year 5!)6 Major Holidays Paid!Insider Application Process where most internal advancement opportunities are posted only for LivWell employees to see and apply.The opportunity to develop and progress your knowledge and experience to evolve with one of the most progressing Cannabis companies in America.Paid Training at our LivWell University
What We're Looking For
Demonstrated ability to consistently meet productivity and performance requirements and quotasDemonstrates high attention to detail to increase productivityDemonstrated ability to follow direction of room supervisors and take responsibility for multiple assignments independently and with the team.Strong work ethic with team player mentality and positive can-do attitudePrevious Cannabis related experience not necessary, just a willingness to learn.Patience, Flexibility, and Discipline for Routine.Demonstrated ability to contribute to a culture of professionalism.
What We'll Need From You
Regular and on-time attendanceCommitment to a minimum 40-hour work week that will typically be scheduled Monday – Friday from 7:00am until 3:45pm with overtime as needed, possibly including weekends.Able to use a computer and/or hand tools while sitting or standing for extended periods of timeMust be a Colorado state residentHigh School Diploma or GED (this is a must; a college degree on top is awesome)Be able to obtain your badge with the Colorado MEDAble to move about a fast paced manufacturing and warehouse environment, including kneeling, bending, reaching, rotating, and stooping on an intermittent to regular basisAble to lift and move up to 50 pounds occasionally
The Growth Phase 2 Farmer is responsible for a variety of farming duties, including gardening and the upkeep of all Growth Phase 2 garden areas, performing all hands-on duties in the farm, and transporting plants to different areas of the farm. The Growth Phase 2 Farmer is expected to operate under the highest standards of compliance and professionalism.
Essential Duties
Procedures, Productivity, and Quality
Preparing and loading tables according to standard operating procedures.Trellising tables according to standard operating procedures.Manicuring and spreading plants according to standard operating procedures.Transport plants that are ready to be moved into different areas the farm.Cleaning and maintaining all equipment and material.
Work Environment
Adhere to all work safety requirements including but not limited to: lifting, bending, and move up and down ladders throughout shift. Perform regular cleaning and maintenance on work surfaces, tools, and related equipment to ensure the garden is well maintained.Ensure cleanliness of all areas in the garden.Maintain a positive attitude that creates a positive work environment.Keep doors closed when not in use.Wear protective clothing when working with plants.Before exiting the facility remove protective clothing and ensure that there is no cannabis on your personal clothing, shoes, or hair.
Compliance and Reporting
Ensure compliance with all local, state and federal regulations through guidance from a manager or supervisor. Ensure that workflow and work procedures are documented and that appropriate controls and audits are in place to ensure data and processing integrity.
Job Requirements
Maintain a culture of professionalism.Must work in a focused, quick, and efficient manner.Must be willing to transplant 20 plus hours a week.Must be comfortable working with rockwool.
Other Duties
Other duties as assigned, including, but not limited to assisting other departments to help facilitate the additional and/or supplemental work such harvesting, trimming, packaging, cleaning and light maintenance as needed throughout the facility.
Supervision
Works under the direct supervision of the Manager of Growth Phase 2.Works under the general supervision of the Growth Phase 2 Supervisors.This person does not supervise other employees.
Work Experience
Job Qualifications
3 months to one year of experience in Trim preferred.Demonstrated ability to take and follow direction.Demonstrated ability to meet individual and team productivity goals.Demonstrated oral and written communication capabilities.Knowledge of local, state and federal employment laws relating to key areas of responsibility. Must be able to secure appropriate work credentials from the Colorado Department of Revenue, MED.
Education
High School Diploma or equivalent required.
Proven success in the following job competencies
OrganizationTime ManagementCommunication TeamworkLeadershipResultsProblem Solving and Decision Making
Working Conditions
Able to use a computer and/or hand tools while sitting or standing for extended periods of time.Able to move about a typical office, manufacturing, or warehouse environment.Able to perform general office managerial and administrative activities.Able to kneel, bend, reach, rotate, and stoop on an intermittent to regular basis daily.Able to lift and move up to 50 pounds frequently throughout work hours on a daily basis.Regular and on-time attendance.Hours may occasionally exceed 40 hours per week.Occasional travel by conventional means including aircraft, motor vehicle and the like within the region and to other locations as required.
Note: To perform this job successfully, an individual must be able to perform each essential duty satisfactorily. The requirements listed above are representative of the knowledge, skill, and/or ability required and are not intended to be an exhaustive list of all duties, responsibilities or qualifications associated with this job.